While exercise benefits your cardiovascular system, musculoskeletal system and overall health, it can also give you an upset stomach during or shortly after a workout. The causes of exercise-related stomach upset vary -- some people experience problems with heartburn due to gastric reflux, while others become nauseated from dehydration or over-hydration. Some people even suffer vertigo and its accompanying motion sickness from certain forms of exercise.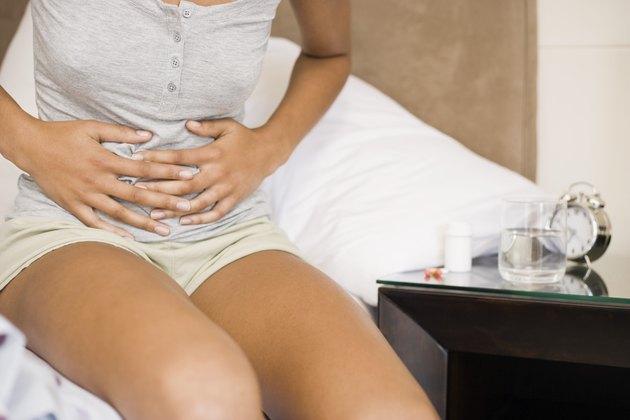 Heartburn and Reflux
People who suffer from gastroesophageal reflux disease, or GERD, develop heartburn or stomach pain as acidic stomach contents flow into the esophagus. Certain forms of exercise can exacerbate GERD symptoms or provoke a case of heartburn even in those who do not have the disorder. High-impact exercises, such as jogging or aerobics, shake the fluids in your stomach like pop in a bottle, increasing the likelihood of reflux. Exercises that require tensing of abdominal muscles or inverted positions, such as yoga or Pilates, can likewise cause heartburn.
Dehydration and Over-Hydration
As your body becomes dehydrated due to exertion, it slows the rate at which food passes through your body. The more slowly your meal travels through your gastrointestinal tract, the more water you absorb from it. Because your body can't tell the difference between drought conditions and simply forgetting to take a sip of water during your jog, it slows its digestion. Your last meal may wear out its welcome if you let yourself get dehydrated. A few sips of water will help, but if you go too far in the other direction, you risk feeling ill as your stomach empties more slowly than you replace the fluids it passes to your small intestine.
Eating Too Soon
Exercising on a full stomach can cause gastrointestinal distress because your body's attention lies elsewhere than your digestive system, leaving your stomach feeling leaden and bloated. While you're exercising, your cardiovascular system, respiratory system and excretory system in the form of your sweat glands must work hard to compensate for the strenuous activity. With little energy devoted to digestion, you may feel nauseated if you wait less than an hour after eating to exercise. If you're prone to stomach upset, try doubling that delay between mealtime and exercise to two hours before your workout.
Vertigo
Inverted postures and rapid shifts in movement can cause your inner ear to perceive different information than your eyes see. When this happens, you begin to sweat and feel queasy; this is the beginning of motion sickness. If you're prone to vertigo and motion sickness under other conditions, you might suffer some of the same symptoms during exercise. In addition, if you tend to hold your breath while working out, or are working out vigorously, you may hyperventilate, which also causes dizziness and nausea.