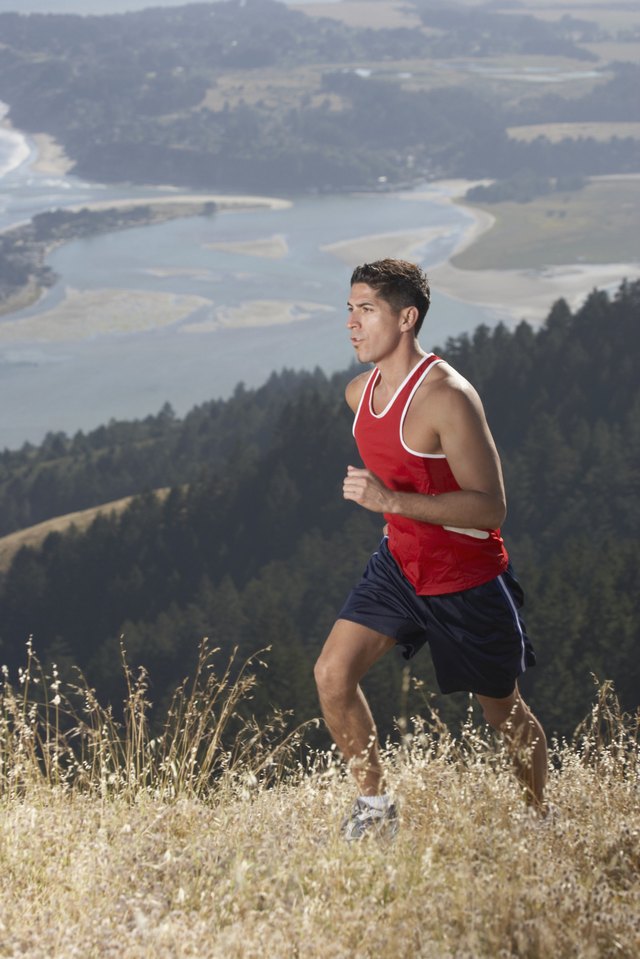 After an intense bout of exercise, the body naturally produces lactic acid, but it clears it out when oxygen becomes available. Several strategies can clear it efficiently and thereby improve workouts, such as incorporating a cooldown, hydrating and consuming a balanced diet. But no one magic food reduces buildup during exercise. A balanced diet will include carbohydrate intake throughout the day, fresh fruit and adequate fluid intake. You should avoid exercising after a prolonged fast; instead, refuel with a snack or your first meal of the day.
What Is Lactic Acid?
When your body needs to generate energy anaerobically, such as during high-intensity exercise, it produces lactic acid. Lactic acid buildup doesn't cause the muscle soreness felt days after strenuous exercise, but the body's production of it and the resulting acidity creates a burning sensation in active muscles during exercise. The discomfort forces you to slow down, and then your body initiates a recovery process to restore muscles.
What to Do Before a Workout
Starting an exercise session after a fast, such as first thing in the morning, can lead to fatigue. Have a small carbohydrate-containing snack before a workout, such as a small fruit or 6-ounce serving of yogurt to give your body some fuel. Consuming a balanced diet with small, frequent meals is a healthy strategy that can yield stable blood sugar and energy levels.
Anecdotal evidence from the Brigham Young football team led to research such as a study by Kevin Miller, assistant professor of health, nutrition and exercise science at North Dakota State University. Reported in 2010 in Medicine and Science in Sports and Exercise, the study found that male subjects who consumed pickle juice before a workout had fewer muscle cramps. Subjects consumed 1 milliliter of pickle juice per kilogram of body weight -- roughly a quarter-cup for a 150-pound person -- but you should avoid this practice if you have high blood pressure or impaired kidney function.
Additionally, warming up before a strenuous workout increases you body temperature and limbers up your muscles in preparation for the exercise that will come.
What to Do During a Workout
Stay hydrated during your workout to keep your body functioning optimally. A joint position statement from the American College of Sports Medicine and the Academy of Nutrition and Dietetics notes that you should replace fluid at a rate of 16 to 24 fluid ounces per pound of body weight lost during exercise. AND emphasizes the importance of drinking fluids before, during and after exercise to prevent dehydration and for optimal performance. During a workout, you should aim to replace fluid losses and consume carbohydrates. AND recommends 30 to 60 grams of carbohydrates per hour to maintain blood glucose levels. The following snacks contain about 30 grams of carbohydrates: 4 pretzel rods, a large banana or 3/4 cup of unsweetened dry cereal.
By working out regularly and continually increasing your body's tolerance for exercise, you will become more efficient at clearing lactic acid. Personal trainer and triathlete Selene Yeager notes on Bicycling.com that you can train your body to use lactate more efficiently by increasing the duration or intensity of your workouts.
What to Do After a Workout
Drink liquids after a workout to rehydrate, but remember that overhydration can occur with excessive fluid intake. How aggressively you rehydrate will depend upon how much fluid you have lost. In some cases, adding a sports drink that contains electrolytes and carbohydrates will help. Researchers in a 2011 article in the European e-Journal of Clinical Nutrition and Metabolism recommend having a sports drink that contains not more than 6 to 8 percent of volume from carbohydrates so as not to delay gastric emptying.
If you're exercising moderately and consuming a balanced diet including carbohydrates distributed throughout the day, and you aren't exercising following a prolonged fast, sugary sports drinks won't be necessary or impact performance. Further, if your diet is moderate in sodium intake and you consume a variety of fruits and vegetables, which typically contain potassium, an electrolyte-enhanced sports drink won't be necessary either. Consuming lowfat milk, for example, is a good idea after a workout snack because it provides carbohydrates, fluid and protein to aid in meeting your protein needs to repair and grow muscles.
Cooling down with low-intensity activity or walking after a workout will help clear the lactic acid from your muscles. Additionally, you should incorporate stretching into your workout routine. On the website Fierce Strength, Colby Smith, a certified personal trainer in Fargo, N.D., recommends stretching 5 to 10 minutes to decrease recovery time and prevent muscle injury.
Diet Goals for Exercise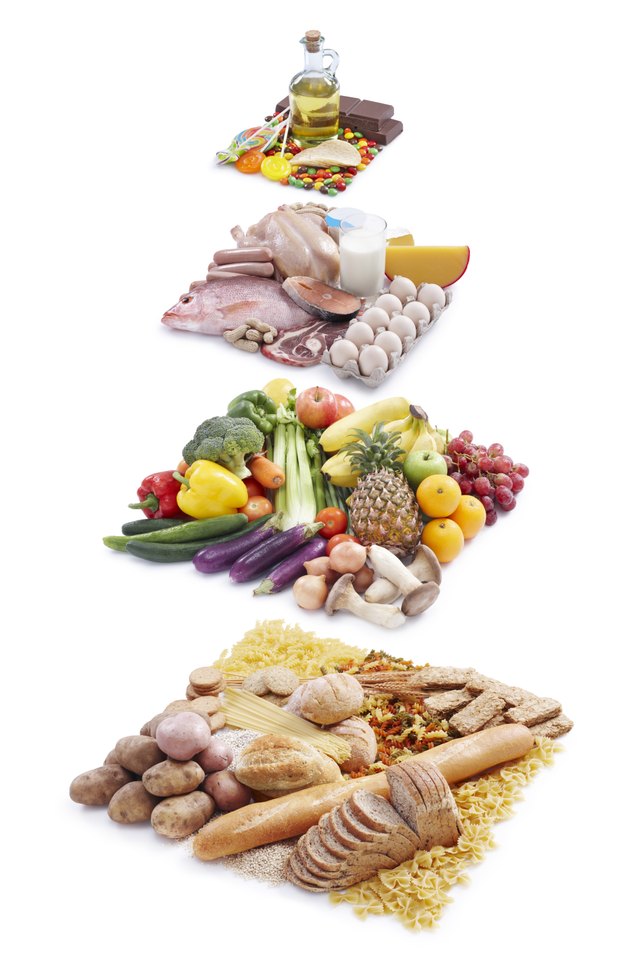 Make sure to consume a balanced diet that meets your calorie needs to maintain energy levels and reach performance goals. If calorie intake doesn't meet your needs, the result can be loss of muscle mass, increased risk of fatigue and injury, and prolonged recovery. Carbohydrates easily break down into glucose, the best energy source used by the muscles and brain. A carbohydrate-containing snack can fuel your workout. For athletes in training, the Academy of Nutrition and Dietetics recommends 2.7 to 4.5 grams of carbohydrate per pound of body weight per day.