Lactic acid, which was discovered in the late 1700s, is a substance found in various foods, and is also produced in the human body. There are several medical reasons why excessive amounts of lactic acid exist within your muscles, but the most common cause is vigorous exercise. Extreme lactic acid usually produces discomfort in the legs. Acid removal is a chief concern because even though the discomfort is temporary, it can impact your physical performance.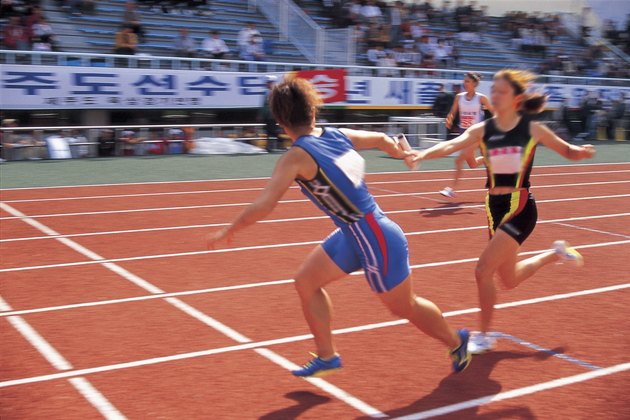 Why It Happens
Your body creates lactic acid regularly in small amounts to assist with various biological functions. However, when acid is produced at a rate faster than your body can naturally remove it, the condition is called lactic acidosis. During exercise, this occurs if your exercise intensity is such that your muscles need more fuel than is readily available. According to Scientific American, when your body has run out of oxygen to fuel your muscles, lactic acid buildup occurs as a byproduct of glucose being used as a fuel substitute. The acid buildup causes discomfort, primarily in the form of a burning sensations in your muscles.
Natural Elimination
Once you decrease the intensity of your exercise or stop exercising completely, your body begins to naturally remove the lactic acid. This is because the need for the glucose fuel substitute has diminished, and in turn, the acid byproduct begins to dissipate. The muscle discomfort associated with the acidosis also dissipates as your exercise pace decreases. Since this acid elimination happens naturally, no additional steps are needed to remove the lactic acid. The natural elimination of lactic acid generally happens within an hour.
Other Removal Techniques
Even though acid removal occurs naturally, as Delano Public Schools points out, sometimes athletes look for external means for removing lactic acid. While hot baths and messages are commonly used to try to expedite acid removal, Message Therapy.com reports that these external techniques are relaxing, but ineffective for acid elimination.
Exercise-Related Prevention
As you meet and exceed various fitness thresholds, lactic acid accumulation is not completely preventable. However, Bicycling.com and ABC-To-Hiking.com point out that as you gradually and progressively become more physically fit, your body will become more efficient at using and managing its primary fuel, which is oxygen. This ultimately equates to decreased the incidence of, and possibly decreased intensity of extreme lactic acid buildup.