You might be unwilling to skip a workout due to soreness, but pushing through the pain can sometimes cause more trouble in the long run. Running can cause further damage to your legs and you won't get the health benefits that running brings if you have to shorten your routine due to pain. If you do decide to go running while you're sore, taking some precautions will help get you back into shape faster.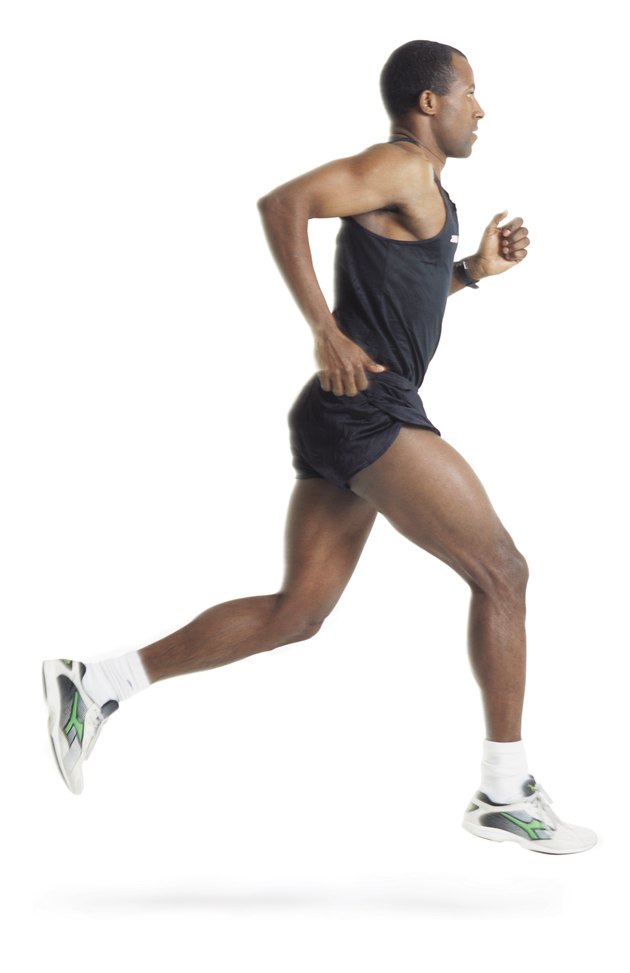 When Running Is OK
If you have light soreness in your legs and you know that it's caused by previous exercise, it may be OK for you to run. Soreness that has come on in the previous days and began after you did an intense workout is likely caused by delayed-onset muscle soreness. DOMS is believed to be caused by tiny tears in the muscles that occur when you raise the intensity of your workout. If your soreness is mild and you have no other symptoms indicating a medical problem, you can try running.
When Running Is Not OK
Soreness can be caused by strained or pulled muscles, and running can make these problems worse. If only one leg hurts or you have sharp pain anywhere, do not run. There are a number of other symptoms that can signal your need for rest. If your soreness is accompanied by cold or flu symptoms, fatigue, insomnia, lack of appetite, change in mood or anything else that doesn't feel right to you, take a break and visit your doctor. You should also avoid running if your soreness is getting steadily worse instead of better.
Treating Soreness
Running with sore muscles can sometimes ease your pain, but it may also worsen your soreness. There are some precautions you can take to make your run a healthy exercise rather than a painful one. Stretch your legs for at least 5 minutes before setting out. When you're done running, sit in a tub full of cold water or put cold packs on your leg muscles. The cold can compress your swollen blood vessels and ease your pain. If you feel frequently sore after running, you may need to buy new shoes with better cushioning.
Altering Your Routine
You may not be able to follow your same routine when you're sore. Run for half as long as you normally would and include frequent periods of walking. You'll more easily be able to tell if your pain is becoming worse when you're walking. Running up or down hills will also make your pain worse. Run on a flat surface until your soreness is gone. Look for a surface that has some give, such as soft field or dirt path, rather than running on concrete.