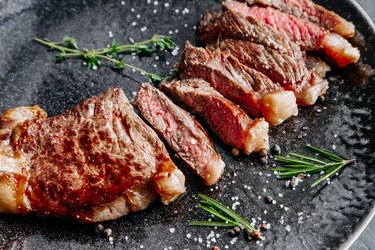 There's a lot of discussion about protein out there, especially when it comes to fitness and dieting. You can better understand how protein improves your body and helps you become a healthier person by learning about the main protein elements.
Tip
Protein is made up of amino acids composed of five elements: carbon, hydrogen, oxygen, nitrogen and sulfur. There are 20 different types of protein and three different groups of amino acids.
What Is Protein?
Protein is a building block of life, responsible for various bodily functions, from restoring muscle to growing skin and nails. There are some 10,000 different proteins that work throughout your body creating enzymes, hemoglobin and multiple other aspects of the body. In fact, every cell in the human body contains protein, according to MedlinePlus.
Protein may also make your bones stronger, according to a June 2017 article published in the American Journal of Clinical Nutrition. Researchers found that a higher protein intake could protect bone mineral density in the lumbar spine.
This is why protein is an essential component of a daily diet. Whether you're an average person or an intensive athlete on a high-protein diet, protein is necessary to repair old cells as well as make new ones. It's especially important for children and pregnant women as well.
Humans receive protein elements from food, particularly animal sources like meat, dairy, fish and eggs. There are smaller amounts of protein in plant-based foods like beans and legumes, as well as grains and soy. While most protein with the full spectrum of amino acids come from animal products, you can get enough protein from plant-based options — like soy, beans, legumes and whole grains like quinoa as well if you eat enough.
Amino Acids as Building Blocks
While proteins are the building blocks of the body, amino acids are the building blocks of protein. Amino acids are organic compounds that attach to one another in long chains to make up protein structure, and each have a unique sequence defining them.
Amino acids work to break down and digest food, repair tissue like muscles and provide the body with energy. There are three groups of amino acids, according to MedlinePlus, and a total of over 20 types.
Your body can't produce essential amino acids, so you have to get them from food. There are nine essential amino acids: histidine, isoleucine, leucine, lysine, methionine, phenylalanine, threonine, tryptophan and valine. Some foods, like meat and fish, contain what's considered "complete protein," which has all nine essential amino acids.
These amino acids are produced by the body, once you've consumed essential amino acids. Some nonessential amino acids include asparagine, cysteine, glutamine and tyrosine. Your body makes nonessential amino acids during protein breakdown.
These amino acids are stored for rare uses, like during times of illness or stress. They aren't needed on a daily basis.
Protein Roles and Functions
A March 2016 study published in Food & Function notes that when you consume dietary protein, it gets broken down in your stomach to release amino acids, dipeptides and tripeptides. Some of these get used up by bacteria in the small intestine; the rest of the amino acids get absorbed into skeletal muscle as well as other tissues.
These protein elements serve a variety of purposes in your body. One type of protein function is providing antibodies, which are the body's infection fighters. Antibodies attach themselves to foreign invaders like viruses and bacteria to battle them off.
Proteins also fuel enzymes, which are in charge of chemical reactions in cells and forming new molecules by reading the genetic information in DNA. Messenger proteins like hormones, meanwhile, send signals to cells, tissues and organs to trigger bodily processes.
Proteins like actin are used to build cells and give them structure; they're also responsible for moving your body. These proteins include elastin, keratin and collagen, which are found in your skin, hair, bones, tendons and nails. Proteins also help balance fluids and retain water, boost your immune system and contribute to a variety of other processes.
How Much Protein to Eat
It's easy to see why protein is so crucial, and why a lack of protein can lead to anemia, weakness, muscle loss, fatigue and a broken down immune system. Severe lack of protein can result in malnutrition.
Adults should be eating a minimum of 0.8 grams of protein per kilogram of body weight per day, according to the Harvard T.H. Chan School of Public Health. For someone who weighs 140 pounds, they should be eating 50 grams of protein per day. People who weigh more should be eating up to 70 or 80 grams of protein.
Using this USDA protein intake calculator, you can estimate how much protein you need every day depending on your body weight, age and level of activity. Based on the calculator, a 30-year-old male should eat about 69 grams of protein per day, depending on the level of physical activity.
Meanwhile, a 50-year-old woman who's fairly active would need about 44 grams of protein per day. Once you know how much protein you need to eat daily, you can incorporate workout shakes into your day.
Where to Get Protein
Unless you're on a restricted vegetarian or vegan diet, the best place to start to bring more protein into your diet is animal-based foods. However, because many animal products like red meat or dairy can also contain saturated fat, sodium and other less healthy elements, it's important to be aware of everything that comes along with the protein.
Red meat like steak contains the highest levels of protein, with a 40-ounce sirloin steak containing about 33 grams of protein. Red meat, however, also contains the highest levels of saturated fat — with 4.6 grams of it in a 40-ounce steak. While red meat can provide you with a great boost of protein and iron, it's recommended you only eat it two or three times per week at most.
The American Institute for Cancer Research notes that red and processed meats should be eaten in moderation and less often than other meats like poultry. You should eat less than 18 ounces of red meat like beef, pork and lamb per week. And avoid processed meats, such as anything from the deli, like salami, ham, bacon and hot dogs.
If looking for protein-packed options that are healthy and overall nutritious, aim for salmon and other types of seafood. A 40-ounce piece of salmon contains 30 grams of protein and far less saturated fat than red meats. Other good options include chicken, which contains 28 grams of protein per 40-ounce piece, and dairy products like milk.
Finally, start filling your meals with plant-based protein more and more, and you'll discover you'll have energy from healthy protein and also be consuming less fat and sodium. Legumes like lentils contain up to 18 grams of protein per cup, and are very low in saturated fat and sodium. Nuts, though they contain the lowest amount of protein, can also be a good snack in between meals.
In short, fill your diet with healthy proteins like fish (salmon in particular), poultry, legumes, beans and protein-filled whole grain choices like quinoa. Eat red meat, cheese and dairy in moderation, and try to avoid processed meats in general. You'll find that healthy proteins and their amino acids are sustaining your energy and helping fuel your body.