Just because you're working a desk job doesn't mean you can't get your booty into shape. Schedule a few fitness breaks into your work routine to tone and tighten your glutes right from your office without any special equipment.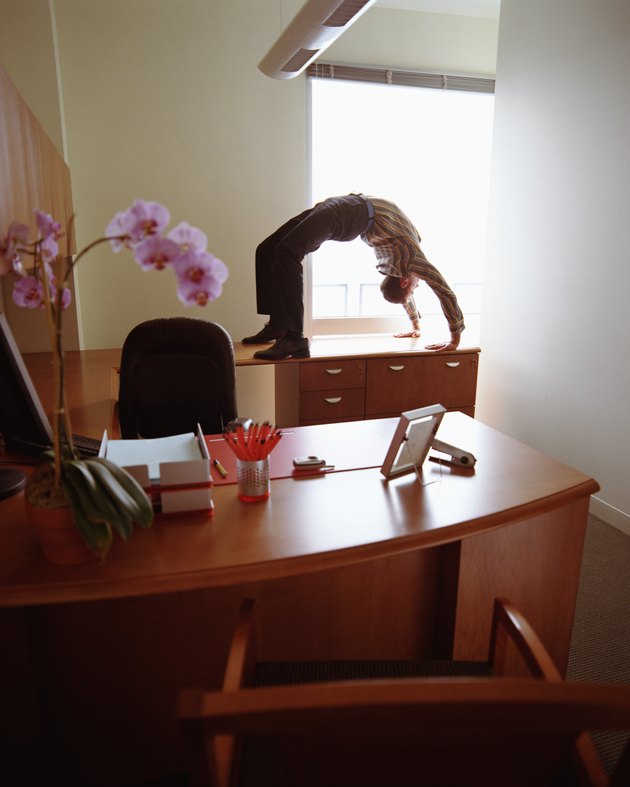 Plie Squats
Plie squats not only strengthen your gluteus maximus, they tone your hips and thighs. Stand with your feet a bit wider than shoulder-width apart with your toes facing outward. Keeping your back straight and upright, drop your hips down and back as you squat toward the floor. Continue squatting until your thighs are parallel or near parallel with the floor. Hold the position briefly before returning to a standing position. Keep your knees behind your toes throughout the exercise. Make the exercise more challenging by holding a heavy book or water jug with both hands hanging in front of you as you squat.
Static Lunges
Lunges work your glutes as well as your quadriceps and hamstrings, and static lunges are easier and quicker to perform than traditional lunges, making them a good choice for a quick office fitness break. Start with your feet together and take a large step forward with your right foot. Lunge forward by dropping your hips toward the floor. Lunge until your right thigh is parallel to the floor and your left knee is close to touching the floor. Straighten your legs and repeat. Switch sides and work the opposite leg.
Bun Squeezes
If you're too busy to leave your desk or simply want to work your butt discretely while on the phone or in a business meeting, squeeze your butt together. While sitting in your desk chair, contract your butt muscles and hold the contraction for five to 10 seconds. Release and repeat. Gradually increase the time you hold the squeeze as your butt gets stronger.
Side Lunges
Your butt is composed of three muscles, the gluteus maximus, glutesu medius and gluteus minimus. Varying the way you perform an exercise will help ensure you're hitting all three groups. Side lunges, a variation on a traditional lunge, work all three glutes muscles in one simple exercise. Start with your feet hip-width apart with your hands in front of your chest for balance. Step to the side with your right foot. Carefully shift your weight onto your right foot as you lunge toward it, bending your right knee until your thigh is parallel with the floor. Keep your back straight and your knee behind your toes the entire time. Push off your right foot to return to an upright position. Repeat, this time stepping with your left foot.