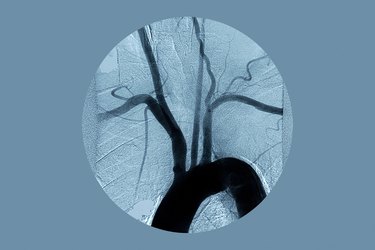 Arginine is a popular supplement that people take for such conditions as congestive heart failure, chest pain, bladder inflammation and erectile dysfunction. Arginine can cause blood vessels to relax and increase blood flow. Cialis or tadalafil is a medication that doctors prescribe to treat erectile dysfunction or pulmonary arterial hypertension. Since both arginine and Cialis relax your blood vessels, taking them together can cause your blood pressure to drop too low. If your doctor has prescribed Cialis, you should not take arginine.
Nitric Oxide and Blood Pressure
Nitric oxide circulates in your blood and affects the smooth muscles that expand and constrict your arteries and arterioles. When nitric oxide comes into contact with the smooth muscles in your blood vessels, it causes them to relax and open up the vessels, which lowers your blood pressure. Taking Cialis and arginine together can cause the levels of nitric oxide in your blood to become too high and your blood pressure to drop too much. Your body depends on your blood pressure to squeeze oxygen into your cells, so if your blood pressure drops too low, your brain will become starved of oxygen and cause you to become lightheaded or pass out.
Arginine and Nitric Oxide
Arginine, also called "L-arginine," is a naturally-occurring amino acid. It is called a "conditional" amino acid because you can live without it for a period of time, but your body needs it in times of stress. Arginine plays an important role in your body's urea cycle, which helps your body rid itself of excess nitrogen. Arginine is also a precursor of nitric oxide. Nitric oxide is the result of a chemical reaction between arginine and the enzyme nitric oxide synthase. Therefore, if you increase the amount of arginine in your body, you will also increase the amount of nitric oxide.
Cialis is one of a class of drugs called phosphodiesterase or PDE inhibitors. PDE is an enzyme that breaks down cyclic adenosine monophosphate or cAMP throughout the body and cyclic guanosine monophosphate, cGMP, in the penis. Both cAMP and cGMP are nucleotides that are important for cell function. Your body produces cGMP within the blood vessels in the penis as a response to increased nitric oxide in your blood. Cialis decreases the activity of cGMP, which allows more nitric oxide to stay in the blood vessels of the penis. The nitric oxide relaxes those blood vessels, allowing them to expand and cause an erection. Since Cialis also inhibits cAMP, it relaxes blood vessels in other parts of your body as well.
Do not take arginine or Cialis if you are taking nitrates or blood pressure medications. You should reconsider taking arginine if you are taking medications that are similar to Cialis, such as Viagra. Do not take arginine if you have the herpes virus, because arginine can trigger herpes outbreaks. Avoid arginine if you have diabetes, since it can alter blood sugar levels. Tell your doctor about any other medications or herbal supplements you are taking before you start taking Cialis or arginine. Common side effects of arginine include bloating, diarrhea and nausea. Some common side effects of Cialis are nausea, diarrhea, flushing, heartburn and headache.