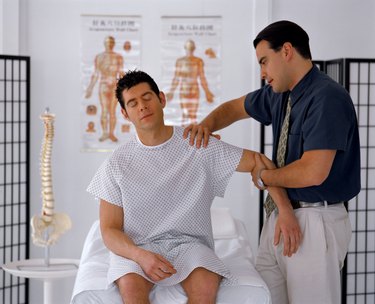 ROM exercises, or range of motion exercises, are designed to assist you in recovering or increasing a full range of motion in bending joints such as shoulders, knees, and elbows. For those who suffer a joint injury, undergo surgery, or experience pain in relation to movement, ROM exercises can help to decrease pain, strengthen the muscles surrounding the joint, and enable you to work out or do daily tasks with minimal discomfort.
Range of Motion Exercises
Different types of range of motion exercises will be more effective for different patients. With the goal of developing full and normal function of your joints, your doctor may recommend that you utilize active ROM exercises, active-assisted ROM exercises, or passive ROM exercises. Patients living with arthritis, sports-related injuries, or healing after joint surgery will likely begin the healing process with passive ROM exercises when he cannot perform the exercise alone, then move to active assisted ROM exercises that include the assistance of a therapist or trainer, and finally to active ROM exercises as he gains strength and can perform the exercises alone.
Treat Arthritis
Depending upon the severity of your arthritis symptoms, passive, active-assisted, or active ROM exercises will be more appropriate as you begin the healing process. Range of motion exercises should aid you in improving your health and day-to-day experience without putting undue stress and strain on your joints. The purposes of ROM exercises for those living with arthritis include maintaining bone strength, strengthening the muscles around the joints, increased energy, better and more restful sleep, weight control, and improved mood.
Treat Sports Injuries
Knees, shoulders, and elbows are all joints commonly injured during sports. For example, tennis players and golfers frequently experience elbow and shoulder issues, while knee injuries are often an issue among rowers, soccer players, and basketball players. The purpose of ROM exercises in these instances is to aid in quicker healing and more effective healing so that players can return to their sports with a full range of motion. During passive ROM exercises the therapist will assist with hip and knee flexion exercises, among others.
Post-Surgical Healing
After surgery for injuries to shoulders, knees, and elbows, the purpose of ROM exercises is to help the patient to regain a full range of motion with the goal of returning to their sport of choice or decreasing their experience of discomfort during the performance of everyday activities. Even with the most limited mobility and starting with passive ROM exercises, it is possible in many cases to build all the way back up to a full range of motion utilizing active-assisted and active ROM exercises.
Caution
Do not determine your stage of readiness in doing ROM exercises without first consulting with your doctor. Whether the underlying issue is arthritis, a sports injury, or healing after surgery, your doctor should work closely with you to form a treatment plan that will speak to your needs. As you progress, you can update that plan and increase your ROM exercises and the intensity of your workout to improve the range of motion of your injured joint.