Although it can grow well beyond its normal size, an enlarged spleen is not always obvious from the outside of the body. In fact, many people with an enlarged spleen have no additional symptoms and never realize their spleen has become inflamed. If your spleen enlarges, your physician can help you determine which activities to avoid and whether any foods should be limited.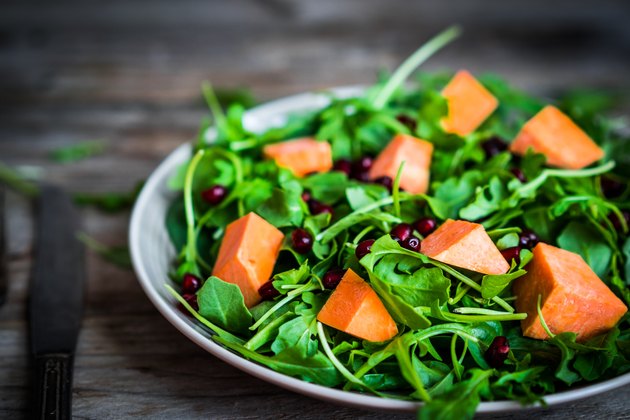 Splenomegaly
Situated on the left side of the body, the spleen is a relatively small organ about the size of a fist. Sitting just behind the ribcage, the spleen typically cannot be felt when pressing the hands into the body. However, when the spleen increases in size, its enlarged shape is easily found as it protrudes past the lowest rib and into the abdomen. When the spleen enlarges, it is referred to as splenomegaly. In many cases, a patient with splenomegaly has no additional symptoms. Sometimes, though, patients might feel pain in the left, upper abdomen, pain in the left shoulder and fatigue. If the enlarged spleen presses against the stomach, it might also cause you to feel full without eating or after eating only a small amount of food.
Causes
Part of the lymphatic system, the spleen helps filter blood and maintain healthy blood cells and platelets. The spleen's involvement with the blood and lymph system places it at high risk for malfunctioning, since many disease-causing organisms circulate in the bloodstream and lymph system. Common causes of splenomegaly include viral infections, bacterial infections, parasitic infections, liver disease, metabolic disorders, hemolytic anemia and blood cancer. Typically, splenomegaly is simply a symptom of diseases or disorders affecting other areas of the body. However, it can also be caused by direct physical trauma to the spleen.
Diet Tips
The spleen is not actively involved in the digestion of foods, so splenomegaly pain is typically not affected by eating specific foods. Instead, the pain from an enlarged spleen often becomes worse after eating a large amount of food – whether it's broccoli or cheeseburgers. To avoid these painful symptoms, slowly eat several small meals throughout the day during a splenomegaly episode. Rather than eating a large breakfast, lunch and dinner, split your food intake up into six or seven small meals every few hours. Eating plenty of fruits, vegetables, lean protein and whole grains provides your body with the nutrients it needs to fight off the underlying infection or disease.
Considerations
If you suspect that your spleen is enlarged, contact your physician immediately. Before treating splenomegaly, you'll need to identify the underling cause of the enlargement through various medical tests. Once your physician identifies the underlying cause, appropriate treatment steps are taken. At this point, your physician can help you determine whether there are any specific foods you should avoid during treatment.