Just like your biceps, your glutes are muscles that can also gain in size when you train them properly. However, plumping up your derrière takes time and the right type of training. Squats effectively target the glutes, and executing them the correct way can help you gain size in your backside.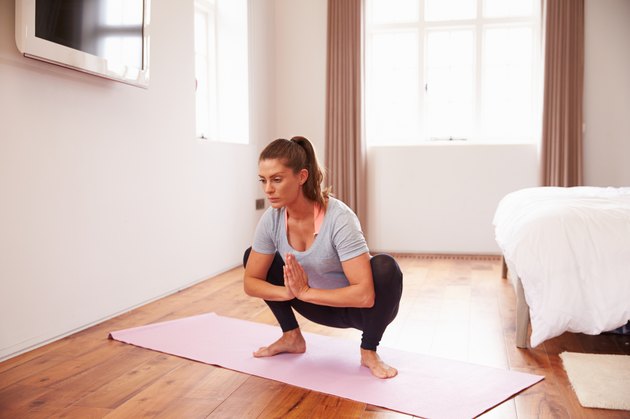 Glutes
Your butt consists of three muscles: the gluteus maximus, minimus and medius. The gluteus maximus is the largest muscle in the buttocks, and it is responsible for the rounded shape of your backside. The minimus and medius are the muscles that help the hip and leg to abduct, or move away from the midline of your body. While you can gain a bigger booty, genetics does play a partial role in the size of your buns. Some people genetically have a more shapely backside, while others may have a less muscular behind.
Squat Form
The American Council on Exercise explains that squats are crucial to shaping your backside. The proper squat form helps you build your butt. Stand with your feet shoulder-width apart because a wider stance works the inner thighs more and glutes less. Slowly bend the knees to lower your body; the goal is to get your thighs parallel to the floor. The lower you sit into your squat, the more engaged your glutes become. Pause at the bottom for two to three seconds and then press through your heels to raise back to a standing position. Not only do squats build lean muscle, they are also a compound exercise, meaning that you use several muscle groups in one movement, allowing you to produce a higher calorie burn than in an isolation exercise.
Weight
Squats can be performed with or without added resistance. Building muscle and increasing size is a system of training called hypertrophy training. BrianMac Sports Coach suggests training with 70 to 80 percent of your heaviest weight for eight to 12 repetitions when trying to increase muscle size. Squats without weight build more muscular endurance, while weighted squats help build strength and size.
Other Butt Exercises
In addition to squats, there are other exercises that target your glutes to help you increase their size. The lunge is another compound exercise that focuses on your backside. You can perform stationary lunges or walking lunges, with or without weight, to add to your fitness routine. Deadlifts also target the glutes, along with the hamstrings. One-legged deadlifts effectively isolate the glute muscles. Perform 12 repetitions on one leg followed by the other leg.