The distended, tight belly; the uncomfortable tension across the stomach – these are very recognizable symptoms that your belly is too full. Bloating can cause you to feel full and your belly to swell because of too much gas in the digestive tract. Bloating is commonly caused by eating gas-producing foods such as beans and raw vegetables, as well as wearing constricting clothing. But there are other reasons for your belly feeling overly full and uncomfortable that you should discuss with your doctor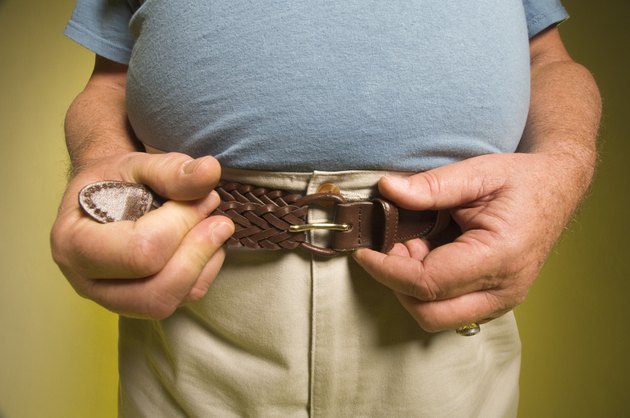 Bloating
Although diet is a common reason for feeling bloated, a number of health conditions can also cause bloat. The U.S. National Library of Medicine says that constipation can cause the belly to feel bloated, and may also be related to diet – lack of fiber, sudden increase in fiber intake, lack of exercise and insufficient fluids. Food intolerances, including lactose intolerance, can also cause bloating. Digestive disorders such as gastroesophageal reflux, gaining weight and irritable bowel syndrome are also common causes of bloating.
Overeating
When you feel too full, it's quite possible that you simply ate too much – and your belly really is just too full. Overeating is a common cause of bloating and the uncomfortable full sensation of having overindulged on food. To prevent overeating, the U.S. Centers for Disease Control and Prevention suggests serving yourself on a plate and keeping the serving dishes off the table to discourage going for second and third helpings. Don't eat mindlessly in front of the TV. When at a restaurant, split an entree with a friend or order an appetizer instead of an entree. Eat slowly to give your belly time to recognize that it's time to stop eating.
Gastroparesis
Gastroparesis is a digestive condition that causes you to feel full and bloated because the stomach empties its food very slowly, according to PubMed Health. Gastroparesis is thought to occur as a result of nerve problems in the stomach that promote normal emptying of contents. Gastroparesis causes the belly to distend and feel tight, and is very common in diabetics.
Easing Bloat and Fullness
Gastroparesis treatments include medications, Botox injections and surgery to help the stomach empty more quickly. Ease gas in the digestive tract and constipation by slowly increasing your intake of dietary fiber, drinking plenty of fluids and getting regular exercise to stimulate the digestive tract, recommends MayoClinic.com. Eat small meals regularly throughout the day and take care to stop eating when you begin to feel full.