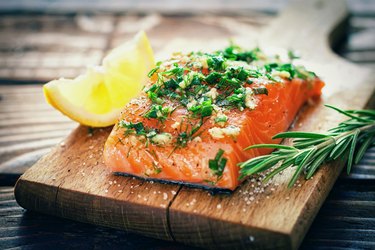 You might be familiar with the disappointment of coming home after a long day of work and realizing that the salmon you planned to cook for dinner never made it out of the freezer. Well, don't despair. You can still cook frozen salmon in the oven.
Believe it or not, it is possible to make a delicious frozen salmon recipe in the oven even if you forgot to thaw the fish ahead of time. "Cooking frozen salmon is an easy way to get a heart-healthy protein on the table quickly," says Rima Kleiner, RD and writer for the National Fisheries Institute's Dish on Fish initiative.
Cooking frozen salmon is just as safe as cooking the fish after it's thawed. "The only thing that's different about cooking frozen fish is that it takes a little longer to cook, but not that much longer," Kleiner says.
Prior to plating, be sure that each fillet has reached the proper internal temperature. The USDA Food Safety and Inspection Service recommends that fish be at least 145 degrees Fahrenheit before you eat it, so consider using a food thermometer to verify that your salmon is ready.
Tip
Don't purchase frozen fish if the package has frost or ice crystals — this can indicate that the fish has previously thawed and refrozen, which can lead to harmful bacterial growth, according to the Food and Drug Administration.
How to Cook Frozen Salmon in the Oven
Oven-safe casserole or baking dish
Nonstick cooking spray
Salmon
Salt and pepper
Herbs and spices; lemon juice (optional)
Aluminum foil
Food thermometer
Preheat the oven to 425 degrees Fahrenheit.
Prepare a baking dish with nonstick cooking spray. Then, place salmon in the dish, with the skin side facing down, says Kleiner.
Cover the baking dish with aluminum foil. "Cooking it covered helps the salmon thaw by steaming it," says Kleiner.
After 15 minutes, remove the foil. "Cook for another 10 minutes or until salmon is cooked through to 145 degrees Fahrenheit and flakes easily," says Kleiner.

Spritz on fresh lemon juice, salt and pepper and add fresh or dried herbs to season the fish.
Tip
It will take about five minutes per ounce for the fish to cook through. For example, if you're cooking 10 ounces of fish, keep it in the oven for 50 minutes.
How to Cook Frozen Salmon on the Stovetop
Paper towels
Salmon
Olive oil
Skillet

Salt and pepper
Food thermometer
Pat the frozen salmon dry with a paper towel to remove any excess ice.
Drizzle some olive oil in a skillet.
Place the salmon flesh-side down (and skin-side up) in your pan and cook over medium-high heat for three to four minutes, says Kleiner.
Flip the salmon in the pan. Drizzle it with olive oil or sauce if you're using one, says Kleiner. Cover the skillet with a lid and cook the salmon for six to seven minutes or until the salmon reaches an internal temperature of 145 degrees Fahrenheit, Kleiner says. The salmon will be a light pink color and will flake easily with a fork when it's ready to eat.
Serve the salmon with lemon slices, herbs (such as scallions, dill or parsley) or sauce.
Salmon Toppings to Try
"As a busy working mom who sometimes forgets to thaw salmon the night before, I cook with frozen salmon frequently," says Kleiner. Not only is frozen salmon easy to prepare, but there are almost endless options for toppings. "Putting a favorite sauce or salsa on salmon is a simple way to add a lot of flavor to frozen fillets without a lot of ingredients or hassle," says Kleiner.
Before placing the frozen fish in the oven, you can top it with:
Maple or honey mustard, minced garlic and red pepper flakes
Red chili pepper, garlic and lime juice
A mix of chopped herbs, such as dill or parsley
Or, try adding sauces after the salmon comes out of the oven or pan. You can combine minced ginger, chopped scallions and soy sauce and place the mixture on top of the cooked fish. Or, mix yogurt, lemon juice and fresh herbs and place a dollop of the sauce beside the fish.
Build a Healthy Meal
As a fatty and nutritious fish that contains significant amounts of B vitamins and protein, salmon is also a good source of omega-3 fatty acids, which is linked to slashing the risk of heart disease, according to the Mayo Clinic. And pairing the fish with the right side dishes provides you with a filling, nutritious and well-rounded meal that's easy to make when you're crunched for time.
Try these tips for building a healthy salmon dinner:
Roasted potatoes topped with Parmesan cheese and basil pesto provide a savory complement to the silkiness of the salmon meat.
For a lighter option, try serving the fish over a bed of cauliflower rice.
Kleiner often serves salmon with stir-fried vegetables and brown rice in a teriyaki sauce or alongside roasted tomatoes, capers, olives and olive oil over whole wheat pasta.
Toss broiled asparagus with olive oil, salt and pepper, lime and cotija cheese. These ingredients provide a tangy counter note to the richness of the fish.