We've all experienced the disappointment of coming home after a long day of work and realizing that the salmon you planned to make for dinner never made it out of the freezer. Well, don't despair, because your dinner plans aren't completely ruined.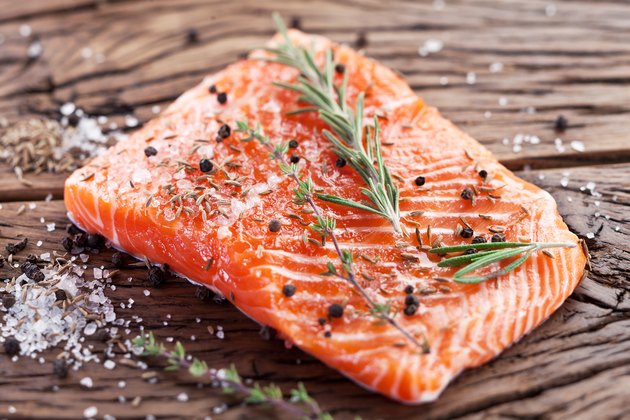 Believe it or not, it is possible to make a delicious salmon dinner in the oven even if you forgot to thaw the fish ahead of time. Follow the simple instructions below and you'll be enjoying a tasty meal in no time. Trust us when we tell you that your family won't know the difference.
How to Cook Frozen Salmon Fillets
Cooking frozen salmon is not all that different from cooking thawed out fish. Begin by spraying a casserole dish with non-stick cooking spray and placing the fillets skin down in it. Then finish preparing the salmon by squeezing a fresh lemon and sprinkling 1 teaspoon dried dill, 1/2 teaspoon sea salt and 1/4 teaspoon ground black pepper over the top. Prior to putting it in the oven, cover the dish with heavy duty aluminum foil.
Place the covered dish in an oven that has been preheated to 400 degrees Fahrenheit. Cook the fish for 5 minutes per ounce of weight. For example, if you are cooking 10 ounces of fish, keep it in the oven for 50 minutes. When it is finished, the salmon should easily flake with a fork.
What Else Can I Top Frozen Salmon With?
The options for salmon toppings are almost endless. Try topping the fish with maple mustard, minced garlic, and red pepper flakes prior to putting it the oven. For a more zesty variation, red chile pepper, garlic and lime juice can be used. Store bought sauces and marinades can also be substituted to save time if you're in a pinch.
Is it Safe to Cook Frozen Salmon Without Thawing it First?
Cooking frozen salmon is just as safe as cooking the fish from an unthawed state. Prior to eating, be sure that each filet has reached the proper internal temperature. The USDA recommends fish be at least 145 degrees Fahrenheit before you consume it. A food thermometer can be used to verify that your salmon is ready
Can Frozen Salmon be Cooked on the Stove?
A stovetop can also be used to cook frozen salmon, but it is a bit trickier. Start by patting the frozen fish dry with paper towels to remove any excess ice. Then, coat the fish on both sides with olive oil before placing the fillets skin side up on a skillet that has been pre-heated over medium high heat. Leave the fish like this for 3 to 4 minutes before flipping the fillets over and seasoning the salmon with your favorite toppings.
After doing this, cover the pan and turn the heat down to medium. After 6 to 8 minutes, the salmon should turn light pink when it is ready to eat. Again, be sure to verify the internal temperature has reached 145 degrees Fahrenheit before consuming.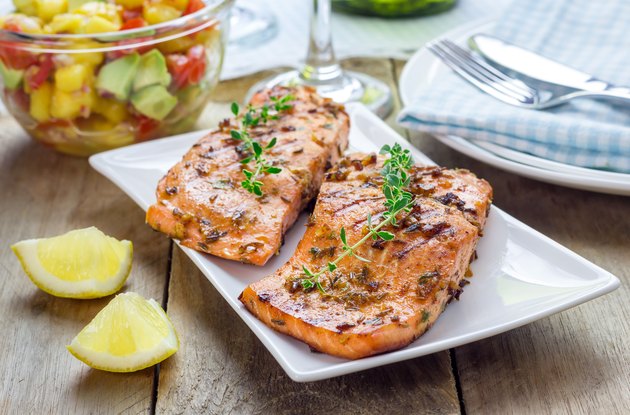 What Sides Can You Pair with Salmon?
Roasted potatoes topped with parmesan and basil pesto provide a savory compliment to the silkiness of the salmon meat. For a lighter option, try serving the fish over a bed of cauliflower rice. Another idea is to toss broiled asparagus with olive oil, salt and pepper, lime and cotija cheese. These ingredients provide a tangy counter note to the richness of the fish.