Moong dhal beans are the same as mature mung beans, and are similar in size, shape and texture to lentils and split peas. Yellow colored, moong dhal beans are split in half and peeled, so that they have a flat and rounded side, and are quick cooking. Moong dhal, like other legumes, are a source of non-animal protein, as well as a rich source of dietary fiber and other nutrients.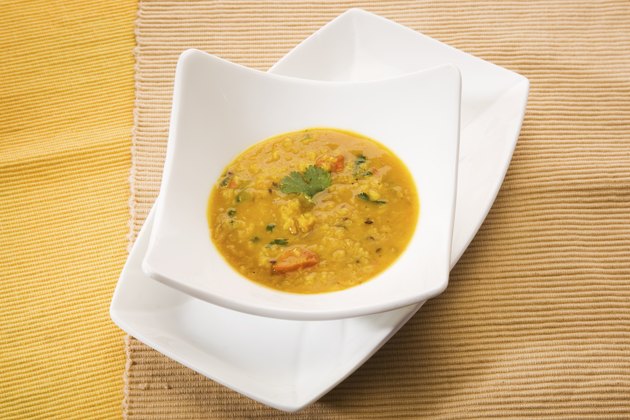 Nutritional Profile
A 1-cup serving of cooked moong dhal has 147 calories per serving. With only 0.77 grams of total fat, moong dhal beans are a good source of low-fat protein, with a little more than 14 grams per serving. While the majority of adults in the United States eat enough protein, a variety of protein sources — including more non-animal sources — is highly recommended.
Dietary Fiber Content
Moong dhal is particularly high in dietary fiber, providing almost 15.5 grams of fiber per 1-cup serving. This provides between 40.5 and 71 percent of the dietary reference intake for fiber per day for adult men and women. Dietary fiber can help reduce blood cholesterol levels as well as prevent dietary complications, such as constipation and diverticulosis. A diet high in dietary fiber will also reduce the risk of overeating, as you feel fuller with less food.
Vitamins and Minerals
Containing a broad array of essential vitamins and minerals, moong dhal is especially rich in potassium, calcium, folate and other members of the vitamin B complex. All B vitamins help your body break down carbohydrates into glucose, to produce usable fuel for your body. Folic acid also helps with healthy brain function and the production of DNA. It is also important in maintaining good mental and emotional health. Moong dahl also contains some vitamin E, C and K.
Cooking Moong Dhal
Moong dhal can be boiled whole or they can be soaked to make a paste. The beans are sometimes ground up to produce flour. Common to a wide range of Asian and Indian cuisines, moong dhal is used for sweet as well as savory preparations. Naturally low in fat and high in protein, keep your moong dhal dish healthy by pairing it with low-fat foods, such as vegetables; using a minimal amount of added fat; and possibly combining it with rice to make a complete protein.