Butternut squash, a yellow to tan colored winter squash, is free of fat, cholesterol and sodium. It's also a source of fiber, magnesium, potassium and vitamins A and C. One half cup of uncooked cubes has 2 grams of fiber, 1 gram of protein and only 50 calories. Cubed squash is available at grocers or cut your own after peeling the squash. The sweet-flavored squash is a suitable substitute for any recipe calling for pumpkin or eat it a variety of ways plain, including mashed.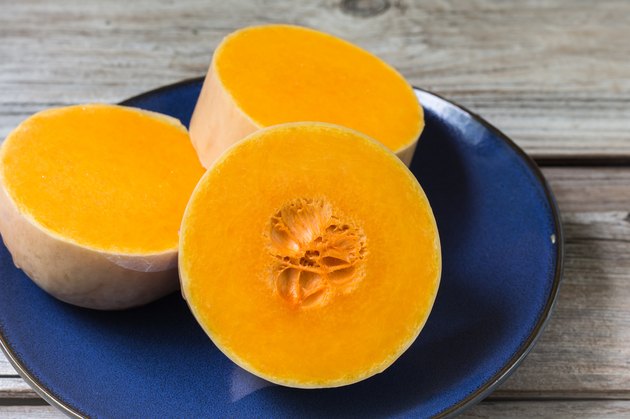 Step 1
Place the cubes in a microwave-safe bowl.
Step 2
Add about 1/4 to 1/2 cup of water to the bowl, or just enough to come up about 1 inch on the bowl.
Step 3
Cover the bowl with plastic wrap to seal the moisture in and steam the cubes.
Step 4
Microwave the bowl of cubes on high for about 5 to 10 minutes, or until the cubes are fork tender. Stir the cubes halfway though the cooking time.
Things You'll Need
Microwave-safe bowl

Plastic wrap

Spoon
Tips
When cutting your own cubes, make the job easier by removing the outside of the squash with a sharp vegetable peeler instead of using a knife to peel the squash.
Refrigerate cooked squash cubes covered in the refrigerator for up to 5 days.
Season butternut squash simply with salt and pepper or other suggested seasonings include allspice, cinnamon, cloves, ginger, sage, nutmeg, thyme and tarragon.
Warning
Be careful when removing plastic wrap - the ensuing steam will be extremely hot and can cause severe burns.