Probiotics are microorganisms — typically bacteria — that are thought to be beneficial to digestion and in preventing certain illnesses. Sometimes called "good" or "friendly" bacteria, probiotics are available in supplement form and are added to foods such as yogurt. Traveling through the human digestive system, however, can be challenging for bacteria, especially when it comes to surviving the powerful acid in the stomach.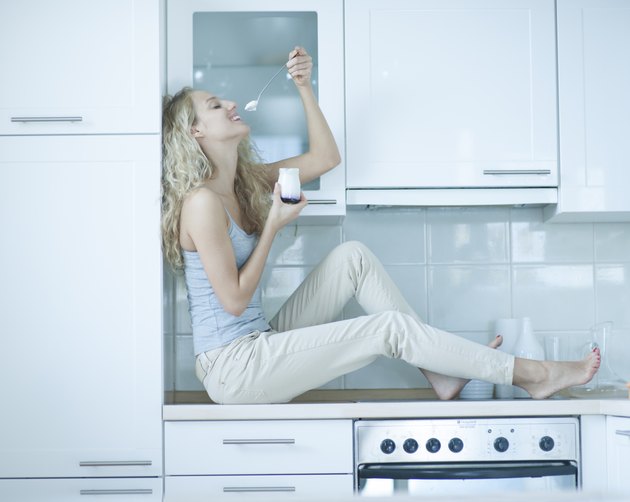 Probiotics
According to the National Center for Complementary and Alternative Medicine, there has been some debate as to the precise definition of probiotics. One of the most widely used was developed by the World Health Organization and the Food and Agriculture Organization of the United Nations, which defined probiotics as "live microorganisms, which, when administered in adequate amounts, confer a health benefit on the host." Probiotics are used to treat such maladies as infectious diarrhea, irritable bowel syndrome, Crohn's disease, vaginal infections and skin infections.
Stomach Acid
Glands located within the lining of your stomach produce a powerful stomach acid. A thick layer of mucous lines your stomach, which prevents this acid from digesting your stomach. In the stomachs of most people, this mucous lining is able to resist the stomach acid, although food and other body tissues can't. According to U.K. food microbiologist Glenn Gibson, quoted in a 2008 story in "The Sunday Times," only highly resistant bacteria such as lactobacillus and bifidobacteria can survive stomach acid. Other types of bacteria, including many probiotics, are likely to be destroyed by stomach acid.
Probiotics and Dairy
One method of protecting probiotic bacteria from stomach acid is by placing this bacteria in dairy foods. According to Bethlehem University, consuming probiotics in milk, yogurt and other dairy products provides the bacteria with a better chance of survival. This is because dairy products can buffer the stomach acid, thus increasing the chances that the probiotic bacteria will survive the journey and make it into the intestine.
Coated Supplements
In the 2008 "Sunday Times" story, microbiologist Glenn Gibson points out that the only way most probiotic supplements will survive contact with stomach acid is if the supplement capsules have a special enteric coating. Enteric coatings are applied to a variety of oral medications, such as over-the-counter pain relievers, providing the medication with a protective layer that can't be eroded by stomach acid. This allows the probiotic supplement to pass safely through the stomach so the intact bacteria can be absorbed in the intestinal tract.