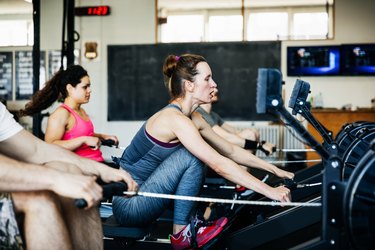 Starting a new exercise plan for weight-loss beginners can be quite intimidating. The time commitment and physical challenge may seem overwhelming, not to mention the sore muscles. It's not always easy to take that first step, let alone stick with a program over time. But those who do can gain benefits now and later.
Exercise Improves Your Future
Before you begin a new gym program to lose weight, consider your motivation for change. Do you want to fit into your old wedding gown for your upcoming anniversary? Has your doctor given you an unofficial (or official) warning? Are you finally ready to take ownership of your physical health for the long run?
If you're not exactly sure where your motivations lie, consider longevity a great place to start. Not only has exercise been tied to longer life expectancy, but a compelling 2019 study published in Frontiers in Physiology makes the case that the effort you put in today at the gym positively impacts your future self. Participants in the study sustained health benefits a decade after a randomized, eight-month exercise intervention.
Exercise Plan for Weight Loss
The most important thing to do is start, whether by walking three times a week on the treadmill or by trying a new gym machine workout routine for weight loss. Scheduling time in your calendar a few times a week for exercise, just as you'd schedule a meeting, can help you stay consistent with your fitness. You wouldn't miss an important meeting, would you?
Choose Healthier Food Options
Finding an activity you enjoy and sticking with it is key, but going to the gym doesn't necessarily result in weight loss. Reach your weight-loss goals by pairing your new exercise regimen with healthier food options. In other words, cut back on processed foods. Try reducing processed foods, refined sugars and carbs in your diet and replacing them with low-fat protein sources and fibrous vegetables.
Combine Cardio and Strength
Trainers agree that the best way to lose weight is to combine cardiovascular exercise with strength training. Fantastic cardio exercises for beginners include brisk walking, cycling and Zumba, and when it comes to strength training, there are plenty of gym machine workouts for weight loss. Start with basic moves like lunges, squats, crunches and curls and work your way up to more complex exercises. Increased muscle mass leads to a revved-up metabolism, too.
Exercise and Goal Setting
The U.S. Department of Health and Human Services Physical Activity Guidelines for Americans recommends a healthy baseline of at least 150 minutes of moderate aerobic activity or 75 minutes of vigorous aerobic activity a week, as well as strength training twice or more often a week. This can be increased up to 300 hours if your exercise plan is for weight loss in beginners, but there are special considerations for a person with obesity starting a workout plan. In this case, it may be only 10 or 15 minutes of walking. Just keep in mind that perseverance and consistency are the name of the game.