Added sugar is what makes sweet tea and soda pop so full of calories, and neither beverage should have a regular place in your healthy eating plan. Sweet tea, however, might be a better choice than soda because it at least supplies some nutrients, whereas soda doesn't have any vitamins or minerals of consequence.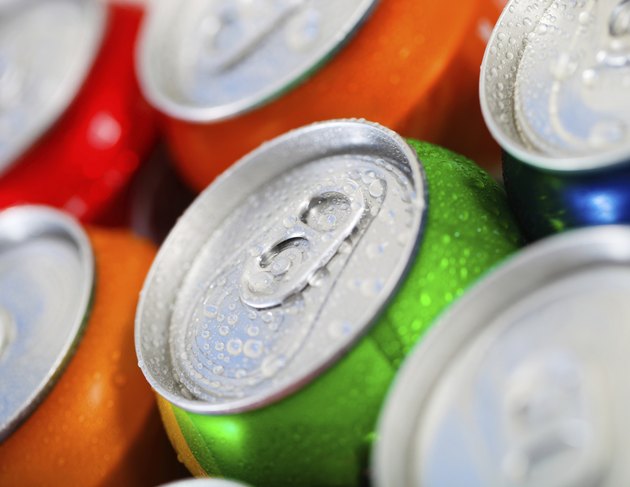 Added Sugar and Calories
The average 12-ounce cola-type soda contains 152 calories and about 40 grams of sugar, all of it added sugar. That's equal to 10 teaspoons of sugar, which is far more than the 6 teaspoons women should limit themselves to each day and slightly more than the daily 9-teaspoon limit for men, according to the American Heart Association. A small fast-food sweet tea contains 150 calories and 36 grams of sugar, which is 9 teaspoons. An 8-ounce serving of the average bottled sweet tea contains 90 calories and 23 grams of sugar.
Drawbacks of Soda
Unlike tea, soda doesn't have redeeming nutrition or health qualities. Regularly drinking sugary sodas can contribute to obesity, according to a 2006 article published in the "American Journal of Clinical Nutrition." Too much added sugar in your diet can lead to unhealthy weight gain, which puts you at a higher risk for Type 2 diabetes. Drinking large amounts of soda leaves less room in your diet for more nutrient-dense foods, the American Heart Association notes. This can leave you deficient in essential vitamins and minerals you need for good health.
Benefits of Tea
Sweet tea has a bit of a leg up on soda because tea contains numerous beneficial compounds. For example, green tea has catechins, which are potent compounds that protect your cells from damage and might also reduce your risk of breast, prostate, skin, lung and colon cancer, according to Harvard Medical School. Both green and black tea can help cut your risk of heart disease, too. Black tea, in particular, can help lower your chances of developing hardened arteries, a condition that can contribute to heart disease, according to MedlinePlus.
So, What Should You Drink?
It's best to skip the soda and sweet tea in favor of unsweetened drinks such as water, unsweetened tea or coffee without sugar. Milk is another nutritious option that also supplies a good amount of bone-building calcium. Making your own sweet tea is another idea that can reduce how much sugar you drink. Brew your favorite tea as you normally would, but only add a sprinkle of sugar per serving rather than dumping in several teaspoons. Diet soda, though in no way nutritious, doesn't contain added sugar, making it a slightly better option than regular soda.