Yoga is a workout like no other, with both physical and mental benefits. If your goal is to tone your body using yoga as your primary workout, choose a yoga style that offers a challenge. Whereas some yoga styles focus solely on stretching, breathing and meditation, others are more physically demanding. You might find that yoga alone is enough to tone your body, or you might wish to combine yoga with other forms of exercise and a healthy diet for the greatest results.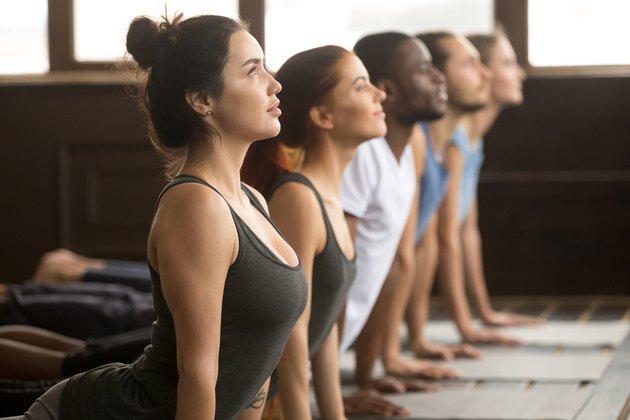 Tip
To tone your body with yoga, choose a vigorous yoga style over stretching-based routines.
Different Styles, Different Results
If you're looking to use yoga to tone your body, opt for a faster-paced yoga style. Some types of yoga move slowly, such as restorative yoga, or incorporate breathwork and meditation. In contrast, styles such as power yoga, with its quicker movements and challenging postures, are more likely to build muscles and burn calories.
Power vinyasa teacher Kiersten Mooney and a team of researchers examined the differences between a fast-paced and slow-paced yoga workout. They found that fast-paced routines burned 100 percent more calories and engaged the muscles up to twice as much as slow-paced yoga.
Tip
For fat burning and muscle building, pick up the pace of your yoga workout once you've mastered the form and alignment of basic postures.
Adding Weights
Some yoga studios also offer yoga "sculpt" workouts, which typically incorporate weights. Using weights can help to build muscle, possibly boosting your basal metabolic rate (BMR). Your BMR is the amount of energy your body needs for basic bodily functions while at rest. It accounts for roughly two-thirds of the total calories burned daily. When you add muscle mass, your BMR may increase — thereby boosting your resting caloric burn.
Benefits of Yoga
The benefits of yoga can go well beyond toning your body. Greater flexibility and balance, enhanced cardiovascular function, reduced inflammation and a decrease in chronic pain are just a few of the possible benefits. It's also possible to experience stress relief, reduced anxiety, better sleep and a greater ability to manage daily stressors.
In contrast, a highly stressed, sleep-deprived body might have trouble achieving desired fitness results. Stress alone can affect the body's ability to lose unwanted weight. Chronic exposure to long-term stress has been linked with obesity. In one study, researchers examined concentrations of cortisol, the hormone released in response to physical or psychological stress, in subjects' hair. The results suggest a link between cortisol and weight gain.
In addition, there may be a connection between lack of sleep and weight gain. Another study looked at the genomic and physiological implications of sleep deprivation. Acute sleep loss was shown to promote weight gain and muscle loss in 15 otherwise normal-weight adults.
To Heat or Not to Heat
Practicing yoga in a heated room may help to warm your muscles and possibly make certain postures more accessible due to increased flexibility. These "hot yoga" classes can include any style of yoga practiced in an intentionally heated room, such as Bikram or heated vinyasa classes.
Whether you practice Bikram or another type of hot yoga, you can burn anywhere from 400 to 600 calories in one session, possibly more. The calorie burn depends on your own body size.
In addition, practicing in a hot room may promote endurance and muscle building. Exercising in the heat, known as hyperthermic conditioning, may improve production of human growth hormone and heat shock proteins. The end result can be muscle growth and muscle healing, plus a type of "runner's high" that leaves practitioners feeling euphoric after a good, sweaty session.
Warning
If you choose to practice hot yoga, be sure to drink plenty of water before and after class and replace lost electrolytes.
Postures for Toning and Strength
If you wish to create your own yoga fitness routine, start by developing a home practice. Dedicate an area of your home just for yoga, and begin building your knowledge of sequencing together different postures.
For toning and strength, you can sequence a series of challenging postures that optimize fat loss, build muscle and promote flexibility. For example, Warrior II, Four-Limbed Staff Pose, and various arm balances and inversions are all yoga postures that will help you build strength and tone your body over time.
Yoga Complements Other Workouts
While it's possible to use yoga alone for toning, strength and muscle building, you can also use it as a complement to other types of workouts. Athletes may find that yoga helps them recover from high-intensity workouts. For people who already perform physically demanding exercises, it might be beneficial to choose a slower-paced yoga practice focused on stretching, balance and flexibility.
Why Diet Matters
Despite yoga's benefits, it's important to pair your yoga practice with a healthy diet to see results. Whether your goal is toning, weight loss, gaining strength or building muscle, choose the foods that will fuel your performance and optimize nutrition. That is, eat a well-rounded diet with whole fruits, vegetables, lean protein, healthy fats and complex carbohydrates.
At the same time, avoid processed foods, such as packaged snacks with refined flour and sugar. The closer to its natural state, the more nutrient-dense and healthful it's likely to be. Shop in the perimeters of grocery stores where you'll find produce and refrigerated items, rather than in the interior where you find packaged foods.
Where to Start
If you're new to yoga, consider attending classes at a yoga studio or taking private lessons to start. A seasoned instructor will be able to guide you through postures, correct form and alignment and advise on any modifications you might need for your body.
Even an hour of yoga a week can offer benefits. A study of yoga practitioners over a 10-week period found that yoga was as effective as relaxation in reducing stress and anxiety. In time, you may choose to add more yoga sessions throughout the week to achieve your fitness and wellness goals.