When you're trying to lose weight, lunchtime might feel as if you're in a war zone, especially if the only options are cafeteria fare or fast food. Watch your portions to control calories, and opt for whole, unprocessed foods as often as possible. That might mean packing a lunch to bring to the office, or learning to recognize weight-loss-friendly options on a restaurant or cafeteria menu.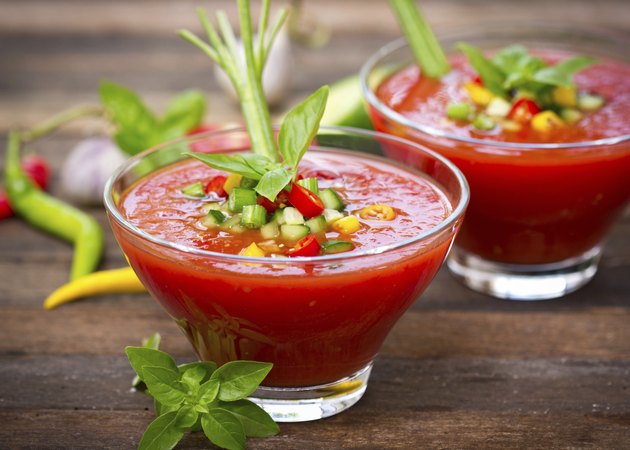 Best Strategies for Losing Weight
A safe weight loss strategy is aiming to drop 1 to 2 pounds a week. To accomplish this, you need to create a calorie deficit of 500 to 1,000 calories every day, which you can track on your calorie counter. The most effective way to do this and keep the weight off is through a combination of reducing food intake and increasing exercise, says the American Council on Exercise. As a rough guideline, most women will lose weight on 1,000 to 1,200 calories a day, while women over 165 pounds and most men will succeed with 1,200 to 1,600 calories, according to the National Institutes of Health. Don't dip below these calorie counts without a doctor's supervision.
Another strategy is to divide your calories fairly evenly throughout the day. If your goal is 1,500 calories a day, aim for roughly 400 calories at breakfast, lunch and dinner, with two snacks of about 150 calories each. You'll get more nutritional bang out of your calories if you choose whole foods like vegetables, fruit, lean protein, low-fat dairy, beans, nuts and seeds. Make sure your lunch – and all your meals – includes protein and fiber, the two nutrients mostly likely to fill you up. Pay attention to portions to stay within your 400 calories for lunch.
Lunching on Soups and Salads
Soup – either as a main dish or as an appetizer – is a good lunch food for a weight-loss diet. A 1-cup serving of soup before your entree can help fill you up so you eat less during the meal, according to a study published in Appetite in 2007. Two lunch options include gazpacho and vegetable beef soup, each with about 40 calories in a cup. Gazpacho, a cold tomato soup, is a viable option to bring from home when you don't have a way to heat food at work. Opt for clear soups or those made from pureed vegetables. Stay away from varieties with added cream or cheese, and watch out for high-sodium canned or frozen soups. If soup is your main dish, have 2 cups instead of one.
Pair your soup with a salad, or have salad as your main lunch food. You can have 3 cups of leafy greens as the base of your main-dish salad for just 15 calories. Top with a lean protein like grilled chicken or a half-cup of chickpeas, and toss on a few cups of chopped raw veggies, like cucumber, tomato, bell pepper and broccoli. Add a tablespoon of pumpkin seeds or sliced almonds for crunch – and more filling protein and healthy fats. Vary your greens daily so you don't get bored.
Leftovers for Lunch
Last night's leftovers make good, quick lunch foods – especially if you have a microwave at the office for reheating. Chili – either con carne or meatless – travels well as a lunch food; keep your portion to under 2 cups, and pair it with a piece of fruit, like an orange or pear. If you made a roasted chicken for dinner, shred a serving and wrap it in a whole-wheat tortilla with chopped veggies and lots of lettuce or red cabbage as another lunch option.
Grab-and-Go Lunch Foods
There are always days when lunch needs to be fast or on the go. A half-cup of hummus – a Middle Eastern chickpea spread – with cut-up celery and carrot sticks and a whole-wheat pita is easy to pack and eat on the run. On especially hectic days, bring an envelope of your favorite protein powder and mix it into a shaker with low-fat milk or milk alternative, or blend up a green smoothie before you leave home and bring it with you. Keep a snack of nuts, seeds or fruit -- such as an apple or banana -- in your desk drawer in case you get the munchies in the mid-afternoon.
Restaurant Lunch Entrees
Cafeteria or restaurant food may be inevitable some days, especially if you have a lunch meeting or party to attend. Learn how to identify the best lunch foods so you don't blow your weight-loss diet when you eat out. Opt for grilled or broiled fish like tuna or trout and pair it with steamed veggies, such as Brussels sprouts or asparagus. Request a side salad in lieu of French fries or rice. If the restaurant specializes in cheesy pasta and pizza, pick a simple marinara sauce or a veggie slice. You may want to have a half-cup of minestrone soup before your meal to cut your hunger.