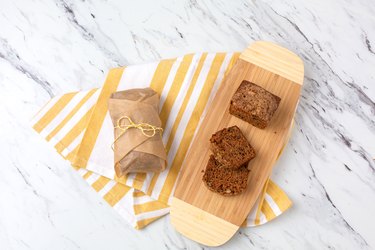 Zucchini, also known as courgette, is an incredibly versatile vegetable. Its high water content and mild flavor allow it to be used in a variety of recipes. Shredded zucchini recipes include zucchini bread, zucchini muffins, fried zucchini cakes and zucchini stir-fries.
Best Ways to Shred Zucchini
The best way to shred zucchini is by using some type of grater. If you plan to grate it by hand, a box grater is ideal. While this may not be the most efficient or easy way to create large amounts of grated zucchini, you're guaranteed to produce perfectly uniform, thin slivers that can be easily integrated into shredded zucchini recipes.
This method of shredding zucchini also allows you to make small batches, one at a time, with ease. All you need is clean zucchini that has had its ends cut off.
You should use the largest holes on the box grater for thickly grated zucchini. Your grated zucchini should be thickly cut if you want it to be noticeable in your zucchini bread. Thick, grated zucchini won't completely vanish when baked, unlike thinly grated zucchini.
That being said, not everyone likes thick shreds of grated zucchini. If you want thinly grated zucchini, all you need to do is use the opposite side of the box grater, which has smaller holes. Generally, the smaller the holes on your grater, the thinner the grated zucchini will be.
Thinly grated zucchini still adds texture to any dish, but isn't too noticeable once you've incorporated it into zucchini bread. This makes thinly grated zucchini ideal if you're trying to make a sweet treat for children, but don't want them to know they're also consuming vegetables.
You can also create grated zucchini using a food processor. If you'd rather use a food processor than grate your zucchini by hand, be careful: You can overprocess the zucchini easily. Most food processors can create grated zucchini when you have large volumes of this healthy vegetable.
Making Grated Zucchini Bread
The USDA's Choose My Plate notes that zucchini bread recipes vary ⁠— they can be sweet or salty. Regardless of the recipe, you're likely to need at least 1 cup of grated zucchini (the equivalent of a whole medium-sized zucchini). This is the amount that's usually needed to make 12 zucchini bread muffins or one 8- by 4-inch tray of zucchini bread, which should yield 12 portions.
To make this amount of zucchini bread, you'll need some other ingredients. Sweet zucchini bread requires:
1 cup of granulated sugar
1/2 cup of brown sugar
1/2 cup of vegetable oil
2 large eggs
1 1/2 cups of flour
1/2 teaspoon of baking powder
1/2 teaspoon of baking soda
1/2 teaspoon of salt
Sweet zucchini bread is usually more similar to a muffin or cake than a bread. The combination of the moist zucchini and a vegetable oil makes this product rich, moist and much more nutritious than your average cake or pastry.
When making sweet zucchini bread, you may also want to include certain spices and flavorings. You'll find that most sweet zucchini bread recipes will also include:
2 teaspoons of ground cinnamon
1/2 teaspoon of ground nutmeg
1/2 teaspoon of cardamom
1/2 teaspoons of vanilla extract
However, you don't need to use these exact spices and flavorings. You can also incorporate ground cloves, ginger, anise or vanilla bean powder into your zucchini bread. It's also possible to include additional ingredients, like crushed walnuts, raisins, honey and even applesauce into your zucchini bread recipes.
To bake your zucchini bread mix, the Home Baking Association recommends preheating the oven to 350 degrees Fahrenheit (177 degrees Celsius). Most zucchini bread recipes need to cook for at least 40 minutes at this temperature. You may need as much as a full hour, though, depending on your exact recipe.