Although a massage therapist could probably unloosen that shoulder knot for you; sometimes that is not an option. Painful knots in the shoulders -- myofascial trigger points -- are like miniature charley horses that won't let go. Just 20 minutes a day may be all the time you need to heat up, stretch and roll out those shoulder knots.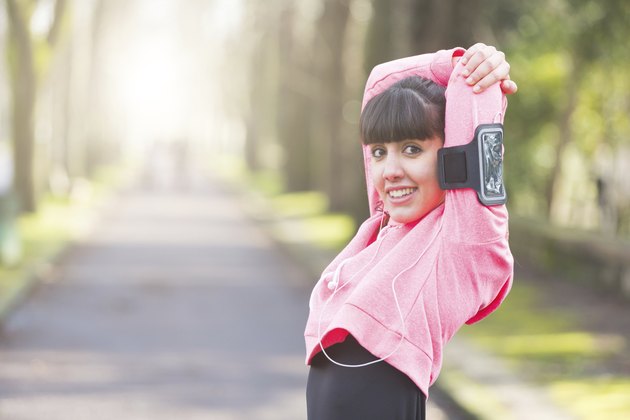 Step 1
Apply a heating pad to the shoulders to warm up the muscle for five minutes. Heat may also help the surrounding muscles relax and provide some pain relief.
Step 2
Shrug your shoulders in a slow, controlled motion -- rolling them up, forward and down again 10 times. Repeat in the opposite direction, rolling them toward your back 10 times.
Step 3
Clasp your hands behind your back and gently lower them toward your buttocks. Keep your spine straight, shoulders relaxed and hold for at least 10 seconds. Release and repeat.
Step 4
Tip your left ear toward your left shoulder and hold for five seconds. Sit or stand straight and relax your shoulders toward the floor. Repeat on the right side.
Step 5
Raise both arms overhead and grab your right elbow with your left hand. Gently pull your elbow toward the left while simultaneously bending toward the left. Feel the pull in your triceps and release. Repeat on the other side.
Step 6
Hold a tennis ball in your right hand and roll the ball over the knot in your right shoulder. You may have to reach up and over your shoulder, which is why you just stretched your triceps muscles as well as the shoulders.
Step 7
Increase the pressure on the tennis ball as you feel it roll over the knot. Hold the tennis ball directly over the knot while exerting enough pressure to feel a good pain -- the releasing of the knot. This may take up to a few minutes.
Step 8
Repeat the tennis ball pressure on the left shoulder, using the left hand. Complete the sequence by repeating the initial shoulder stretches.
Tip
Over-the-counter anti-inflammatory medications may help relieve muscle tightness.
The tennis ball massage may be used hands-free, lying on a firm surface with the ball between the top of your shoulder and the floor. Roll until you feel it hit the knot.
Warning
Do not work out the shoulders for 24 hours following a trigger-point release.