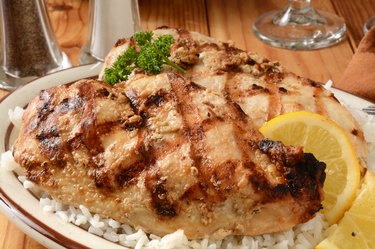 Many people follow a diet that is high in protein and low in carbohydrates to promote weight loss. While this type of diet may help you lose weight, it can have negative side effects, like headaches. Furthermore, this method of eating is not typically safe for the long term, and you also run the risk of gaining back lost weight once you begin eating normally. Talk to your doctor about the diet that is best for you.
Headaches and Other Side Effects
When you increase your protein intake and decrease the amount of carbohydrates you consume, this can result in negative effects, especially in the initial phases of your diet. Along with headaches, a high-protein and low-carb diet may also cause dizziness, weakness and fatigue. Because this type of diet often limits or eliminates high-fiber foods like whole grains and produce, you may also experience constipation, diarrhea or nausea. Finally, high-protein diets can cause ketones to form and get released in your bloodstream, which can decrease your appetite and cause nausea, dehydration and irritability.
Other Dangers of a High-Protein Diet
In addition to causing headaches and other adverse effects, a high-protein and low-carb diet can pose additional, more serious risks to your health. If you do not choose your proteins wisely, you may end up eating too much saturated fat and cholesterol, which can heighten your risk of developing heart disease, diabetes, stroke and certain kinds of cancer. If your body is unable to make use of the extra protein you consume, this can result in osteoporosis and disorders of the liver and kidney. These diets also tend to lack essential vitamins, minerals and other nutrients, increasing your risk of becoming nutritionally deficient.
Dietary Remedies
Always consult with a doctor before beginning a new diet. If you would like to follow a high-protein and low-carb diet, ask your physician or a dietitian for tips on how to get the best nutrition while adhering to this eating plan. Furthermore, your doctor will be able to help determine if this type of diet is right for you, and if it is not, she can then recommend an eating plan that is better suited for you and your goals. Keep in mind that an ideal, healthy diet is one that contains balanced amounts of carbs, protein and fat and is rich in fruits and vegetables. Not only will this help you lose weight, but it can actually lower your health risks and chances for negative side effects instead of increasing them.
Additional Considerations
Headaches can be caused by a variety of factors not necessarily associated with your diet. Therefore, it is important to get a medical opinion rather than self-diagnose the problem. While headaches are not typically a cause for concern, see your doctor if you experience intense, frequent or prolonged head pain or migraines. If you start getting headaches or other adverse effects associated with a high-protein diet, seek medical attention.