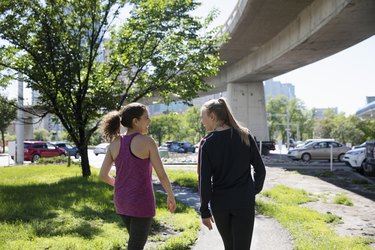 If you live with varicose veins, you might be wondering if a medical procedure is the best option to get rid of these twisted and enlarged veins. But if you're active, the decision to go in this direction might hinge on when you can get back to exercise after varicose vein surgery.
Tip
Always follow your doctor's recommendations for physical activity after varicose vein surgery. Once you are cleared, start with low-impact activities like walking.
According to the Mayo Clinic, varicose veins are twisted veins most often seen in your legs that can become enlarged. Many people do not experience any pain, but some people who will have an achy or heavy feeling along with a burning or throbbing muscle cramping in their legs or other parts of the body that have varicose veins. Very rarely, some complications can happen from having varicose veins including, ulcers that may form near the veins, blood clots or bleeding from a vein bursting.
When you return home following surgery, the University of Washington (UW) says you may walk and bear as much weight as you can. They do point out that you need to be patient since you will start out slowly and progress as comfort allows.
For the first week after vein surgery, they state that a good rule of thumb is, if you are up, then you are moving. But if you are not moving, then you should rest with your feet up. While the decision to move forward with removal is unique to each individual, there are some things you should know about when you can exercise after varicose vein surgery.
Exercise after Varicose Vein Surgery
Following your doctor's recommendations is key in the days and weeks following any procedure. One thing they will likely discuss with you is how to exercise after varicose vein surgery. In the weeks and months following surgery to correct varicose veins, exercise is encouraged to help speed healing and regain proper vein function.
If there is one form of physical activity that is given the green light, it's walking. That's because walking during recovery from varicose vein surgery is critical. "We ask our patients to walk immediately after varicose vein treatment for 30 minutes and we advise walking every day for at least an hour a day for the weeks following treatment," Dr. Nisha Bunke, MD, FACPh, RPhS, of La Jolla Vein Care tells LIVESTRONG.com.
"Walking helps reduce the risk of developing a blood clot in the deep veins, called a deep vein thrombosis (DVT) which is an uncommon, but potentially fatal complication of vascular procedures," she explains. Plus, walking can also help reduce leg pain after varicose vein surgery.
Bunke explains that there are no exact guidelines on exactly when you can resume heavy exercise like running, cycling, or heavy lifting after a vein procedure, but most surgeons recommend avoiding heavy exercise for two weeks following a vein procedure.
"Most varicose vein treatments are non-surgical, such as endovenous ablation procedures, but for traditional vein stripping surgery, which is uncommon these days, you may not be ready to return to exercise for several weeks," she explains.
With that in mind, the guidelines for when you can exercise after varicose vein surgery include:
Avoid strenuous or prolonged physical activities or exercise for two weeks post-surgery

Avoid impact exercise or physical activity for about two weeks after surgery

Avoid lifting anything more than 10 pounds for two weeks post-surgery

Avoid lunging, squatting, running, spin class, cycling and other high-impact aerobics for about two weeks, says Bunke.

Resuming a Regular Routine
When it comes to resuming your regular routine, Dr. Daniel P. Friedmann, MD, FAAD, a board-certified dermatologist at Westlake Dermatology tells LIVESTRONG.com the time it takes to return to a full or unmodified workout routine really depends on the type of procedure. "Laser or radiofrequency closure of large leaky veins (that are the underlying cause of varicose veins) is often associated with no downtime whatsoever and results in only a mild amount of soreness, and patients are safe to return to a full or unmodified workout routine in seven days," he says.
But when it comes to strenuous activity or high-intensity exercise, Bunke explains that typically, a patient should not resume high impact exercise until they have had a post-procedure ultrasound to make sure the veins have successfully been treated and there is no blood clot. That said, she does point out that this is a general consensus, and directions may vary surgeon to surgeon, and the exact type of vein procedure you have.
Exercise is also recommended for preventing new varicose veins from forming, according to the Office on Women's Health. They point out that any exercise that works the muscles in your legs may help prevent new varicose veins or spider veins from forming since the muscles in the legs help your veins push blood back to the heart.
If you have any questions or concerns about resuming a regular exercise routine or designing a routine that may help prevent new varicose veins from forming, it's always a good idea to talk with your doctor and a physical therapist. They can help you design a program that fits your needs and keeps you safe.