The nutritional value of a hamburger can vary greatly, depending on how it is prepared and what ingredients it contains. Some hamburgers contain more than one patty, and the extra bacon, cheese, sauces and other condiments can change the amount of calories, fat and carbohydrates your hamburger provides. Removing the bun of your burger is a good way to decrease the total calorie and carbohydrate content of your meal.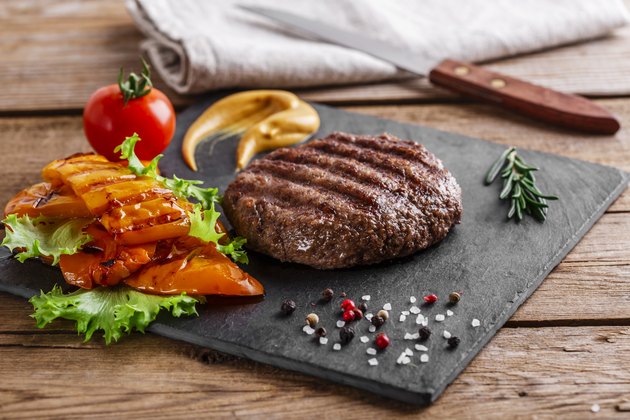 Hamburger Bun
A hamburger bun generally contains the equivalent of calories and carbohydrates found in two regular slices of bread. For example, a small hamburger bun has 117 calories, 4 grams of protein, 2 grams of fat and 21 grams of carbohydrates. Some buns are quite large and can add up to twice as many calories and carbohydrates to your meal. If you follow a low-carb diet or worry about your blood-sugar levels, removing the bun of your burger can help you keep your weight under control and prevent your blood-sugar levels from raising too high.
Patty
A 3 to 4 ounce hamburger patty contains between 220 and 307 calories, 23 and 31 grams of protein, 15 and 20 grams of fat and no carbohydrates at all. The nutrition facts of your patty can change if ingredients are added to the ground meat, such as fillers, high-fructose corn syrup, vegetables or seasonings.
Condiments
The condiments added to your hamburger also contribute to its nutritional value. For example, 2 tablespoons of ketchup has 38 calories, less than 1 gram of protein, 0 gram of fat and 8 grams of carbohydrates. A 1-ounce slice of American cheese provides around 77 calories, 6 grams of protein, 7 grams of fat and 2 grams of carbohydrates. Three slices of bacon have 133 calories, 9 grams of protein, 11 grams of fat and 0 gram of carbohydrate. Lettuce, onions and tomatoes contain very few calories, protein, fat and carbohydrates, but can provide 1 to 3 grams of fiber.
Nutrition Overview
The overall nutritional value of a hamburger without the bun depends one what ingredients you use. If you use one 4-ounce patty with a 1-ounce slice of cheese, 3 slices of bacon and 1/4 cup of ketchup, your burger will provide 562 calories, 47 grams of protein, 38 grams of fat and 10 grams of carbohydrates. If you are concerned with your carb intake, omitting the ketchup would change the nutrition facts down to 533 calories, 47 grams of protein, 38 grams of fat and 2 grams of carbohydrates.