As you reach age 50, your body naturally loses muscle mass and starts to pack on extra pounds in your midsection. This increased belly fat is a health concern that raises your risk of chronic disease. You don't need to simply accept increased belly fat as a consequence of aging, however; you can adjust your lifestyle to lose excess fat and keep it off.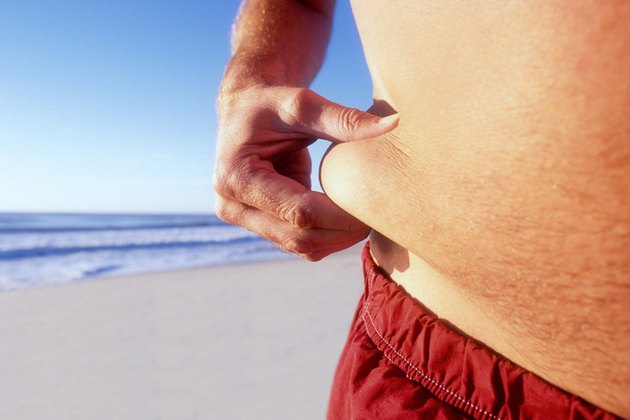 The Impact of Aging on Belly Fat
When you eat more calories than you burn, you'll gain fat. In pre-menopausal women, this fat usually accumulates in the hips, thighs and buttocks. But as hormones change in your late 40s and 50s, this fat migrates to your belly. Men have a tendency to store extra fat in their bellies their entire lives. As you age, the tendency to gain fat happens more quickly, with adults putting on about 10 percent of their body weight per decade.
The metabolisms of men and women slow down with age. If you sit at a desk all day, you may be a little less active than if you have a more physical job. The amount of muscle mass you have declines as you age, especially if you don't strength train, so you'll end with a fattier body composition, even if you stay the same weight. This loss of muscle also reduces your metabolic rate, as your body requires more calories to maintain lean muscle mass than fat mass. You may be eating the same as you did in your 30s, but you're not using as many calories -- and the surplus shows up as belly fat.
Poor Dietary Choices and Belly Fat
Your younger adult metabolism may have processed poor dietary choices more quickly than it does now, but as you age, all the burgers, beer, fried foods and processed snacks you eat catch up with you. Soda and other foods that have added sugar, such as cookies, pastries and ice cream, are also to blame.
A balanced diet to support a slimmer middle includes plenty of lean proteins, whole grains, vegetables, fruits and low-fat dairy. Watch your portion sizes, as too much of any food can cause you to pack on pounds if you exceed your daily calorie burn rate.
Use an online calculator to determine your daily maintenance needs, according to your current age, size, gender and activity level. If you want to lose a few pounds, eat 250 to 500 calories fewer than your daily maintenance calories so that you can spur a loss of 1/2- to 1-pound a week.
Stress Builds a Big Belly
During your middle years, stresses from work, financial, family and social issues may increase, leading to greater production of the stress hormone cortisol. You may find yourself mindlessly eating more often or snacking on high-fat, high-sugar foods to appease your worried mind. This stress eating has dire consequences, as these extra calories go straight to your belly, which is rife with cortisol receptors that stimulate fat production. Stress makes it more likely that you'll develop belly fat, instead of those pounds appearing elsewhere on your body.
If you are stressed, look for non-food ways to soothe yourself such as yoga, meditation or mini-vacations. When you do find yourself stress eating, choose healthy snacks such as woven wheat crackers with low-fat cheese, low-fat yogurt or hummus with cut-up vegetables.
Reduced Physical Activity After 50
Moving more deters belly fat from developing, whether you're engaging in formal exercise or in non-exercise activities such as doing household chores. By the time you reach 50, old injuries, mild aches and pains and legitimate schedule conflicts may make exercise more of a challenge than when you were younger. But skipping cardio and strength workouts accelerates the rate at which you gain belly fat.
To promote good health, aim for at least 30 minutes of moderate-intensity cardiovascular exercise on most days, such as brisk walking. To lose belly fat, Increase that time to as much as 60 to 90 minutes. Engaging in 250 minutes or more of moderate-intensity cardiovascular exercise leads to significant weight loss, according to the American College of Sports Medicine. Researchers in a 2009 issue of the Journal of Clinical Endocrinology and Metabolism found that a weight-loss intervention that combines cardio exercise and calorie-restriction leads to the greatest loss of visceral fat in obese participants 50 and older.
In addition to cardio, strength train all your major muscle groups at least twice a week, with at least one set of eight to 12 repetitions, using a weight that feels heavy by the last couple of efforts. This helps offset your natural loss of muscle mass.