Red lentils, like all types of lentils, are not only a great source of low-fat, plant-based protein, but contain a wealth of B vitamins, many essential minerals and fiber. Economical and easy to prepare, lentils can help your digestion, protect the heart, maintain your bones and support weight loss.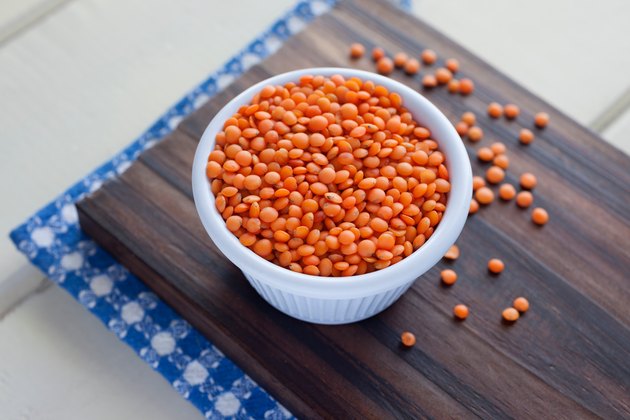 What Are Lentils?
Lentils are a pulse, which includes beans, chickpeas and other edible seeds of legumes. Lens-shaped, lentils exist in a variety of sizes from extra small to large. Although lentils come in many colors, such as brown, green, yellow, red or black, red lentils are among the most common type appearing in grocery stores in the U.S. If you buy split red lentils, their seed coat is removed and the inner part split in half, which makes them cook much faster than if left whole.
The U.S. Dietary Guidelines considers all types of lentils and other pulses to be a member of both the protein and vegetable food groups because of their high content of plant-based protein and dietary fiber, according to Annals of the New York Academy of Sciences, published in March 2017.
The established, recommended, single-daily serving for cooked pulses is 100 grams (125 milliliters) or one-half cup. Data from Nutrition Reviews, published in December 2017, reports that this amount represents a reasonable target for promoting the dietary and nutritional attributes of legumes, including protein, fiber, folate, iron, potassium and zinc.
According to a review published in the International Journal of Molecular Sciences in November 2017, lentils have a potential beneficial connection to reducing the incidence of diseases, such as diabetes, obesity, cancer and heart disease, due to their nutritive value, bioactive compounds and polyphenol-rich content.
Red Lentils Nutrition
The lentil is a powerhouse — full of nutrients, flavor, health benefits and taste. One-quarter cup of raw lentils is the equivalent of a half cup of cooked pulses, according to USA Pulses.
One-quarter cup of raw red lentils is low in calories — 172 or 9 percent of the daily value (DV), according to USDA. Red lentils are also low in fat, with only 1 gram per one-quarter cup. They do not contain any cholesterol or sugar and are gluten-free. Lentils' calories include 30 grams of complex carbohydrates, or 10 percent of your DV, which provide your body with energy to fuel your muscles, brain, heart and nervous system.
All types of lentils are an excellent and economical source of protein, especially important for vegetarians or people who don't eat meat. The USDA reports that dry red lentils provide 11.5 grams of protein, or 23 percent of the DV per one-quarter cup, to help your body build and maintain tissue and promote growth and development.
Great for a Healthy Heart
Good for Strong Bones
Calcium isn't the only mineral in lentils that contributes to the health of your bones by maintaining their structure and strength. Others include phosphorus, magnesium, potassium, copper, iron and zinc.
Your bones store 99 percent of the calcium, 85 percent of the phosphorus and 66 percent of the magnesium in your body, so it's easy to understand why these minerals are crucial to mineral bone density. Red lentils contain 23 milligrams of calcium, 141 milligrams of phosphorus and 28.3 milligrams of magnesium per quarter cup, as listed by USDA.
Potassium neutralizes acids, which helps keep calcium and phosphorus from being lost from your bones by excretion from the kidneys. Red lentils provide 321 milligrams of potassium per serving, according to USDA.
Copper, iron and zinc in lentils are all necessary for collagen production and synthesis, which helps provide the structural platform for bone formation. In addition, a March 2018 study, published in the Journal of Affective Disorders, assessed 14,834 adults and concluded that copper, iron and zinc, along with selenium, may help relieve depression.
B Vitamins and Iron
A serving of red lentils can help ensure your body gets the energy it needs to function normally.
Lentils are a good source of non-heme iron, delivering 20 percent of the DV in each serving says USDA. Not getting enough iron affects how your body uses energy, and a deficiency can result in fatigue, weakness, GI upset, poor memory and low immunity to infections. Severe low levels may result in serious iron-deficiency anemia.
Red lentils are a great source of B vitamins, necessary to transform the food you eat into the energy that your cells must have for the proper functioning of your heart, brain and blood cells. The USDA lists the B vitamin-content, per quarter-cup uncooked red lentils, as:
20 percent of the DV for thiamin (B1)
4 percent of the DV for riboflavin (B2)
4 percent of the DV for niacin (B3)
3 percent of the DV for vitamin B5 (PA)
11 percent of the DV for vitamin B6
24 percent of the DV for folate (B9)