Your gluteal muscles, or buttocks, comprise the largest muscle group in your body. These muscles anchor your torso, pelvis and legs together and are actively involved in daily activities such as walking and running. Large, defined and well-rounded buttocks are considered an attractive sign of good health, while weak glute muscles can negatively affect strength and posture. By doing the proper exercises, you can build larger, thicker buttocks.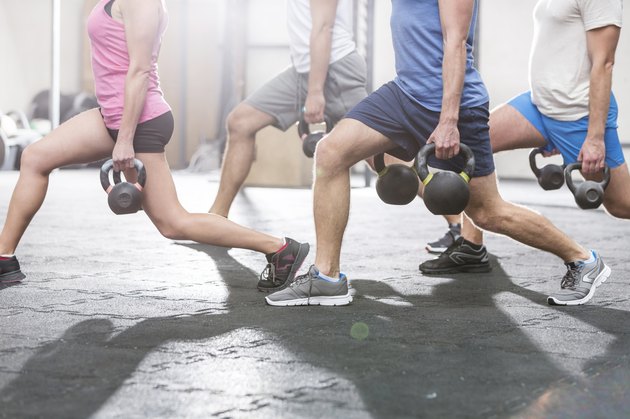 Step 1
Perform squats with resistance such as dumbbells or a barbell. Squats are considered to be highly effective exercises for building the gluteal muscles. To begin, stand with your feet approximately hip-width apart, and hold a pair of dumbbells by your sides or rest a barbell across the back of your shoulder blades. If you are performing barbell squats, have a spotter stand nearby, unless you are using very light weight. If you prefer not to use resistance, place your hands on your hips, or stretch your arms out in front of you. Tighten your abdominal muscles and straighten your spine, and shift your hips back and down. Your knees will bend as you lower your hips towards the floor. Hold the squat for five seconds, keeping your back straight and your thighs parallel to the floor. Avoid letting your knees travel past your toes. Slowly push back upward to the starting position.
Step 2
Do lunges with dumbbells or a barbell. These are also effective exercises for building hip and buttock muscles, and can even improve balance and coordination. To begin, stand with your feet close together. Hold a pair of dumbbells by your sides, or rest a light barbell across your shoulders. Step forward with one foot and lower down until your front knee is bent at a 90 degree angle and your back knee is approximately 1 inch from the ground. Your back leg should also bend at a 90 degree angle. Keep your abdominal muscles engaged and your back upright, and avoid letting your front knee travel past your toes. Push back upward to the starting position and repeat on the same leg, or alternate legs to perform walking lunges.
Step 3
Ride a bike. Cycling tones and builds the buttock muscles, and is a great cardiovascular workout. If you are cycling outdoors, find areas where you can cycle uphill, which will target your butt muscles. If you are using a stationary exercise bike, lean forward and turn up the resistance, which will increase the intensity and add more stress to your thighs and glutes.
Step 4
Perform glute kickbacks. These exercises can tone the glute and hamstring muscles on the back of the thigh. To build muscle with glute kickbacks, add ankle weights for resistance. Begin on all fours and tighten your abdominal muscles. Thrust one leg upward, keeping your knee bent, and raise it as high as you can. Hold for five seconds and then lower the leg, keeping your knee bent. Repeat the exercise on the opposite leg.
Tip
For squats,lunges and glute kickbacks, choose a weight that fatigues your muscles in six to eight repetitions. Perform two to three sets of six to eight repetitions of each exercise.
To make your buttocks bigger and thicker, include extra calories in your diet, in the form of lean protein and complex carbohydrates. Eat lean chicken, fish and beans, and eat plenty of whole grains. While exercise alone may only tone and sculpt your buttocks, eating extra calories will help build larger muscles.
Warning
Always ask a personal trainer for assistance if you are unsure of proper form for an exercise.