Creatine is a dietary supplement promoted for enhancing athletic performance. It's commonly available in the form of creatine monohydrate. During high-intensity, short-duration exercise, creatine -- a protein building block -- is converted to a major source of fuel for the body. Preliminary data suggests creatine may boost strength, reduce fatigue and increase muscle mass, according to the University of Maryland Medical Center. Taking creatine may cause unwanted side effects, including weight gain.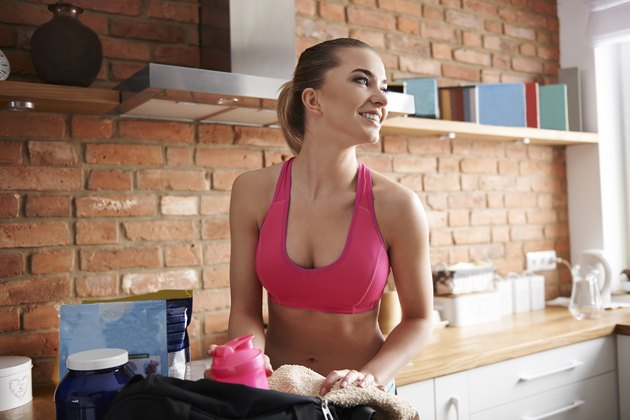 Common Side Effect
Weight gain is the most commonly reported side effect, according to Quinnipiac University. Creatine increases the amount of water stored in your muscles, which causes the body to retain more water. On average, you may experience a 1- to 3-pound increase in weight during the first week of use, according to Quinnipiac University. Keep in mind, the more lean mass you have, the more water you may retain, so you may gain more than the average.
Nonbloat Form of Creatine
Creatine ethyl-ester is a form of creatine commonly marketed as "nonbloating," with manufacturers claiming it won't cause weight gain. While this may be true, CEE may not be as effective as creatine monohydrate. Authors of a study published in February 2009 concluded that CEE was not as effective as creatine monohydrate at improving strength, muscle mass, power and overall body composition. The study was published in the "Journal of the International Society of Sports Nutrition."
Lower Doses May Remedy Weight Gain
If you find that water weight is an issue, consider decreasing your dose to the lowest effective dose. The typical dose for creatine is about 5 grams per day. However, research suggests staying on the lower end prevents water weight gain, according to a study published in the April 2011 issue of the journal "Nutrition." The study found a dose of 2.3 grams daily to be effective at reducing fatigue during high-intensity exercise without causing water weight gain.
Creatine Safety
It's crucial that you drink plenty of fluids while taking creatine, as it may increase your risk of dehydration. Taking creatine may cause other unwanted side effects such as upset stomach, muscle cramps, dizziness and diarrhea. You may need to avoid creatine if you have kidney or liver disease. Taking creatine with caffeine or diuretics may increase the risk of dehydration.