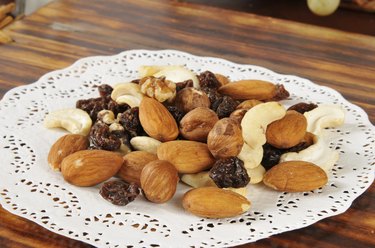 When preparing foods for a packed lunch, balanced food groups and nutritional profiles aren't the only factors to a healthy meal. You also need to select foods that won't spoil after sitting out for hours. Non-perishables are a great way to avoid spoilage. With the variety of non-perishable foods available, it's possible to pack a well-rounded lunch that will stay fresh all morning long.
Fruits and Nuts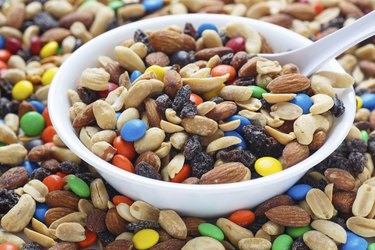 Mix raisins and other dried fruits, nuts and seeds for a healthy trail mix. Candy-coated chocolates add sweetness to the mixture, turning it into a kid-pleasing dessert. If the trail mix is not exposed to high heat, you can add chocolate chips, instead. Fresh fruit is another option that doesn't require refrigeration over a couple of hours. However, certain fruits travel better than others; bananas are less messy and easier to eat than kiwi, for example. Whole apples travel very well, but sliced apples turn brown when exposed to air, making them less appealing to picky eaters. If you send a fruit salad, pack it in a plastic container that seals securely, as softer fruits are likely to expel juice.
Veggies and Dressings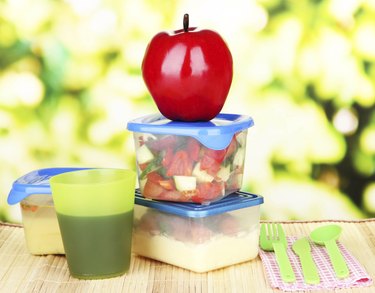 Raw vegetables are a healthy option that keep well until lunch time. For fiber and protein, spoon several tablespoons of peanut butter into the bottom of a plastic container. Stick spears of celery or carrot into the peanut butter and close up the container for an easy-to-eat combo. If you pack salad, put any dressing in a separate container that seals well. Avoid dressings that contain dairy or egg, opting instead for oil and vinegar. Since you can't use fish, eggs or meat in a non-perishable salad, add interest and texture with large, meaty olives or luscious avocado.
Sandwiches and Wraps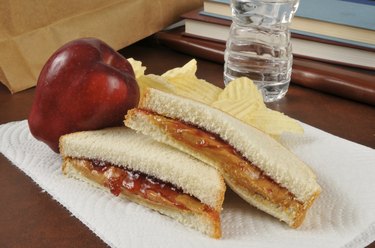 Sandwiches are the classic staple of the lunchbox. However, common sandwich ingredients like cheeses, meats, eggs and fish all spoil quickly if left unrefrigerated. Peanut butter and jelly, a popular favorite among younger children, is a suitable alternative. Create variation by using different flavors of jelly or preserves and trying almond or cashew butter. For a vegetarian sandwich, layer roasted vegetables with hummus spread and sprouts. The combination works especially well in a flour tortilla, as a wrap.
Cheese and Crackers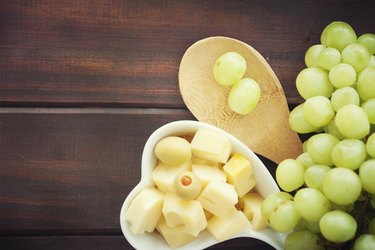 Though it may sound like a snack, a healthy lunch can be made with cheese and crackers as the base. Hard cheeses such as cheddar, colby and provolone are safe away from refrigeration, according to a report in the October 2006 issue of "Food Protection Trends." Combining cheese and whole-grain crackers with shelf-stable fruit, such as grapes, or pickles on the side can fill you up when you're on the go.
Precautions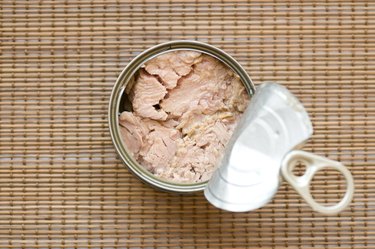 While it's tempting to send leftovers as a packed lunch, do not send any meals that contain meat, poultry, fish, milk or eggs. Whenever possible, keep the lunchbox in the shade. If you include non-perishable products such as UHT milk, only pack individual cartons that are unopened. Once you open many products, they become perishable much more quickly. Likewise, if it's convenient during lunchtime to assemble a sandwich, you can pack canned items like tuna fish; however, do not pack cans that are already opened.