Girls often gain fat in their thighs as they hit puberty. This may seem like a problem area for you, but it's actually a healthier place to store fat than in your belly. Losing weight may help your thighs thin out, but you can't target them for weight loss. Where you lose weight is determined by your body shape, for which you can thank your parents. No leg lift or combination of foods will burn fat specifically in your inner thighs, but diet and exercise could help you lose weight all over if you're not at a healthy body size.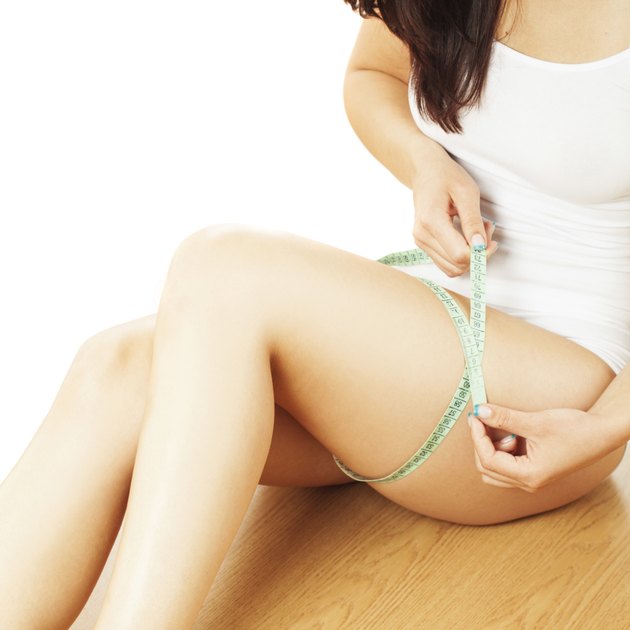 How Fat Loss Happens
Leg lifts, squats and lunges improve the tone, endurance and strength of your muscles, but they don't directly burn fat off the inner thighs. To burn fat, you must create a calorie deficit -- meaning you eat fewer calories than you burn. Your body then pulls from your fat stores to fuel your body. It converts triglycerides, which are the form of fat stored in fat cells, to glycerol and free fatty acids to use for energy. From where your body pulls these triglycerides is genetically and hormonally determined. When you exercise, your body can use any fat cells in your body for energy, not just the ones you want it to use.
Healthy Approach to Losing Weight
Magazine spreads and fitness gadgets want you to believe you can target fat loss, but their promises are about sales, not results. To lose weight, follow a diet that emphasizes healthy, unprocessed foods and exercise. Consult with your doctor to make sure weight loss is right for you, too. If you're of a healthy weight and just don't like your thighs, weight-loss measures may not be required.
As a girl, you're still growing. You need adequate nutrition to support energy, bone development and brain health. Don't purposefully limit calories or entire food groups with a fad diet. Instead, crowd out unhealthy, nutritionally bereft foods, such as soda, baked sweets, ice creams, chips and sugary cereal, and replace them with whole foods, including lean proteins, vegetables, fruits, whole grains and low-fat dairy. Talk to a dietitian to learn proper portion sizes so you don't accidentally overeat at meals and snacks.
Get Active
Aim for 60 minutes daily of physical activity. You can use this time to do exercises that build strength and endurance in your legs. Brisk walking, hiking, jogging, cycling and dance fitness all help your body use fat for energy while developing leg muscle. Make a portion of these hour-long workouts devoted to strengthening the muscles of your inner thighs, known as the adductors, with mat Pilates, step-ups or wide-leg squats.
The more you move, the more calories you burn, which contributes to a calorie deficit. Cut back on screen time, even if you're not formally exercising. Take your dog for a walk, play at the pool or take up an active hobby, like planting flowers, to become more active all day long.
Try Not to Stress About Your Inner Thigh Fat
Stressing too much about school, your weight and social situations can cause you to gain weight. Regular exercise mitigates the weight gain related to this stress, but take other measures to combat it. Avoid overextending yourself -- stick to just the extracurricular activities you feel you can handle. When you feel bored, alone or anxious, find nonfood ways to deal. Call a friend, listen to music or take a walk.
Adequate sleep also affects your weight. Staying up late encourages you to snack on unhealthy foods and feel groggy the next day, so you make poor food choices. Aim for eight to 10 hours every night.