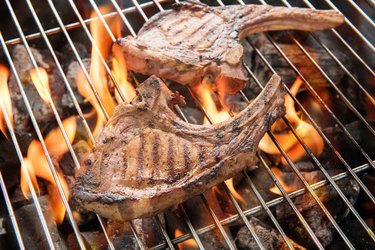 Pork chops cut are relatively lean, especially the meat taken from the center loin. Searing the meat in a cast iron pan, then transferring the pork chops to the oven to finish cooking will help to seal in the natural juices. The flavors of the pork chops blend well with the sweet and tart flavors of a red wine and fig sauce. Once the pork chops are finished cooking, place them on a platter and cover them with foil. This resting time loosens up the juices and redistributes them throughout the pork chops.
Step 1
Heat the oven to 425 degrees Fahrenheit.
Step 2
Season to taste each side of the pork chops with salt and pepper.
Step 3
Heat the olive oil in a heavy oven-proof skillet over medium to high heat.
Step 4
Sear the pork chops for one to two minutes per side, until lightly browned.
Step 5
Transfer the pork chops into the oven to roast for approximately eight minutes or until the internal temperature reaches 145 degrees Fahrenheit.
Step 6
Cover the cooked pork chops with a tent of foil and allow them to rest for five to 10 minutes.
Step 7
Add the red wine and chicken broth to the frying pan.
Step 8
Cook the sauce for five minutes, scraping any brown bits from the pan.
Step 9
Stir in the figs, thyme and butter, and stir the sauce until the butter is melted.
Step 10
Drizzle the pork chops with the fig sauce and serve.
Things You'll Need
4 boneless center-cut pork chops, 1 to 1-1/2 inches thick

1 tsp. kosher salt

1 tsp. fresh ground pepper

2 tbsp. olive oil

1 cup chicken broth

3 tbsp. red wine

1/4 cup finely chopped dried figs

1 tsp. chopped fresh thyme

2 tbsp. butter, unsalted
Tip
Pork chops are delicious with potatoes or rice and a fresh green salad.
Frying isn't the only way to cook pork chops on your stovetop. Pan-searing gives this juicy cut of pork a crusty, well-browned interior; you simply cover the pan to finish cooking the chops to perfection. It also makes for a quick and easy dinner option. You can enjoy your pork chops just as they are or with a complementary addition, such as sauteed apples or a honey-mustard sauce. You can also grill the pork chops on a grill pan on the stove, or cut them up and toss them into a wok for a stir-fry.
Step 1
Brush your pork chops with olive oil, then season them liberally with salt and pepper. You can apply additional seasonings as well, including garlic powder, chili powder, mustard powder and fresh herbs like oregano, thyme and rosemary.
Step 2
Coat a large skillet with just enough canola oil to cover the bottom; place the skillet on the stove over medium-high heat. Add your pork chops and sear them on each side until they are well-browned, about 3 to 5 minutes. Use metal tongs to flip them.
Step 3
Reduce the heat to medium and cover the pan to allow the pork chops to finish cooking. Cook the chops to a minimum temperature of 145 degrees Fahrenheit when checked with a meat thermometer.
Step 1
Brush a grill pan with olive oil or canola oil and bring to a high heat on the stove.
Step 2
Season your pork chops with salt, pepper and any other dry seasonings, to taste. Cover the pork chops in flavorful sauces, such as honey mustard or teriyaki, if desired.
Step 3
Place the pork chops on the hot grill pan and cook for about 8 to 10 minutes on each side, until the pork has slightly charred grill marks and has reached an internal temperature of at least 145 F. Use tongs to lift the pork chops and grill the sides as well.
Step 1
Place your pork chops on a clean cutting board; trim off the fat; and slice them into strips, about a 1/2 inch thick. If your pork chops are bone-in, you'll need to slice the pork off the bone first.
Step 2
Place the pork chop strips in a soy sauce and sesame oil marinade in a large reseable bag and allow them to marinate in the refrigerator as you prepare the other ingredients.
Step 3
Slice bell peppers into thin strips about 1/4 inch thick, then cut them in half lengthwise. You can also chop up other vegetables to include in the stir fry, such as broccoli and onions.
Step 4
Drizzle a tablespoon or so of oil in a wok or large skillet and bring to a medium-high heat on the stove. Add the vegetables, stirring them frequently in the wok, until they start to soften.
Step 5
Add the pork chop slices to the wok or pan, mixing them up with the vegetables. Cook until the vegetables are softened and the pork chops are cooked through to an internal temperature of 145 F.
Things You'll Need
Olive oil or canola oil

Salt

Pepper

Additional seasonings, optional
Tip
Marinate your pork chops the night before in a complementary sauce or dressing, such as a honey-mustard vinaigrette, to infuse the chops with even more flavor.