"Older adults tend to need fewer calories as they age because they are not as physically active as they once were and their metabolic rates slow down. Nevertheless, their bodies still require the same or higher levels of nutrients for optimal health outcomes," advises Alice H. Lichtenstein, director of the Cardiovascular Nutrition Laboratory at the Jean Mayer USDA Human Nutrition Research Center on Aging at Tufts University. Making the most of your calories by choosing nutritious foods can help to ensure positive energy levels and overall health. For best results, seek specified guidance from your doctor or dietitian.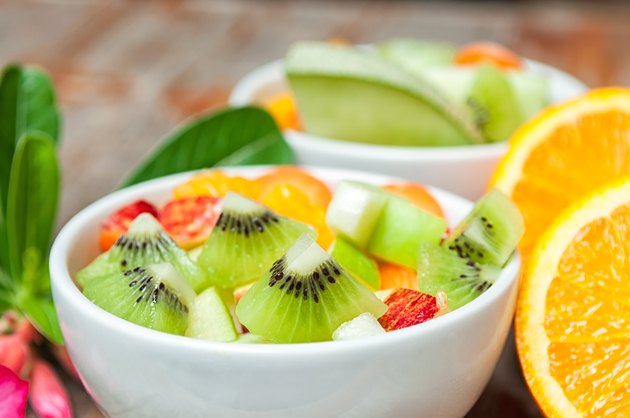 Fruits and Vegetables
Fruits and vegetables are low in energy density, meaning they have few calories per serving compared to other foods, yet are rich in nutrients. They also provide plenty of fiber, which promotes appetite control and digestive function, and carbohydrates, your body's main dietary source of energy. Tufts University recommends that senior citizens emphasize bright-colored vegetables, like broccoli and carrots, and deep-colored fruits, such as melon and berries, for optimum nutrient intake. Choose whole fruits over juices and sweetened canned fruits, which often contain less fiber and more calories.
Whole Grains
Unlike refined grains, such as white and enriched wheat flours, whole grains do not have their valuable nutrient contents stripped away. Consuming three or more 1-ounce servings of whole grains per day can lower your risk for chronic diseases, like heart disease and type 2 diabetes, according to SeniorJournal.com. Doing so may also enhance weight control and your longevity. Like fruits and vegetables, whole grains provide valuable amounts of complex carbohydrates. Because they have a milder impact on your blood sugar, eating whole grains instead of refined grains can lead to more positive, stabilized energy levels. Valuable options include 100 percent whole grain breads and cereals, old-fashioned oats, air-popped popcorn, pearled barley and brown rice.
Cold-Water Fish
The oil in cold-water fish is rich in omega-3 fatty acids – healthy fats you must obtain from food. Diets rich in omega-3 fatty acids are associated with improved memory, brain function and mood, all of which correlate to positive energy levels, according to a "Today's Dietitian" article published in April 2009. Fish particularly rich in omega-3 fatty acids include salmon, halibut, herring, lake trout, mackerel and sardines. For added wellness benefits, grill, bake, broil or poach fish instead of frying it.
Low-Fat Dairy Products
Your need for calcium and vitamin D, both of which help your body absorb calcium, increases as you age, according to Lichtenstein. Some people find meeting their daily needs of these nutrients challenging. Low-fat dairy products also provide valuable amounts of carbohydrates, which boost energy and only mildly affect your blood sugar compared to refined foods, like sweets. Nutritious dairy-based foods include low-fat milk, yogurt and cottage cheese, part-skim mozzarella cheese and kefir, a cultured dairy beverage.