Topamax is a brand name for topiramate, a medication in pill or capsule form that may be prescribed for treatment of seizures. This anti-seizure epilepsy medicine may be used to control tonic-clonic seizures, partial seizures and Lennox-Gastaut syndrome. Lennox-Gastaut syndrome is a severe type of epilepsy in which there may be impairment of the intellect along with delays in development and disturbances of behavior. Topamax also may be used in the treatment of adult migraines.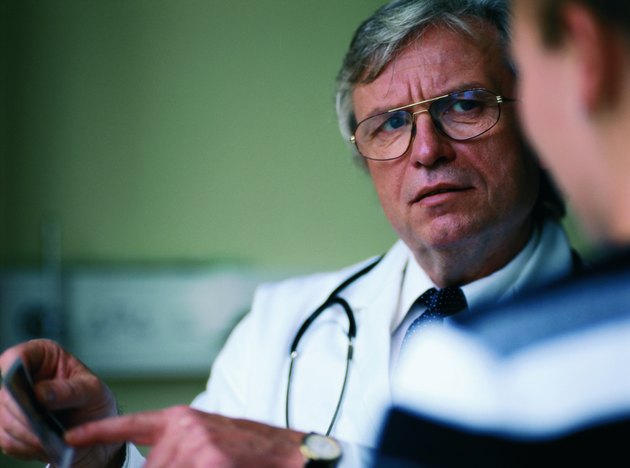 Loss of Control
The use of Topamax may cause a variety of serious side effects, and all of those associated with the bladder are considered as such. You should consult your physician immediately if you experience any serious side effects of the medication. Urinary incontinence or the loss of the ability to control the function of the bladder is a possible but rare side effect of topiramate usage. It means that you are unable to keep urine in until you can reach a bathroom. While the problem may cause your doctor to switch medications, if that is not possible there are some other solutions including medications and protective underwear.
Frequent Urination
Another problem in the bladder caused rarely by Topamax is the frequent need to urinate. This means you still have bladder control, but need frequent trips to the bathroom. Again, your doctor may have suggestions to counteract this, or may need to change your medication. At night, this is called nocturia. According to the National Institute of Health, younger people—up to middle age—can sleep from six to eight hours before they need to urinate. More frequently than that may signal a problem.
Blood in the Urine
Hematuria is the name given to the condition in which your urine contains blood, according to the Mayo Clinic. While this can be a sign of other medical conditions such as kidney disease, cancer, urinary tract infections, kidney or bladder stones, an enlarged prostate or an infection, it also may be a serious but rare side effect of Topamax. Contact your doctor if you see blood in your urine for any reason, but particularly if you are taking topiramate.
Painful Urination
Dysturia is the medical term for painful urination. While it may be caused by a urinary tract infection alone, it also may be a rare side effect of Topamax usage. Your doctor may stop your use of topiramate or provide some medical alternative to experiencing dysturia.