Both recruits and active members of the U.S. Army are required to pass the Army Physical Fitness Test, or APFT. The APFT consists of three events -- pushups, situps and a two-mile run. High Army PT test scores are required for advancing rank and earning slots in coveted military training schools. Improving your running time can help boost your overall APFT score.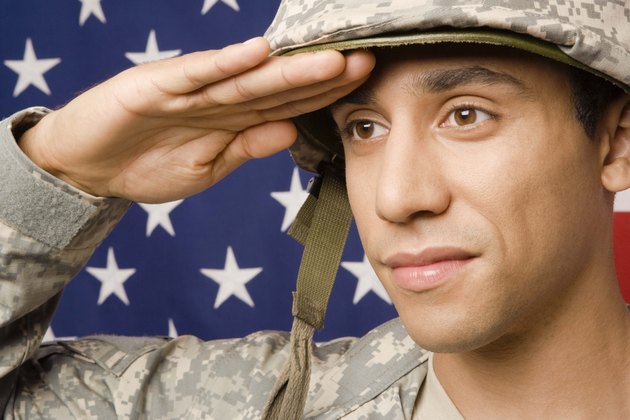 Step 1
Practice good running form. Proper running technique increases performance and decreases the risk of injury. You should run with a slight forward-lean, a short stride, a mid-foot landing and a relaxed upper body. Your technique will break down as you tire, so mental toughness is critical to force your body to maintain correct posture.
Step 2
Increase your endurance with long runs. High-intensity exercise such as a timed two-mile run requires a strong cardiovascular base. This is achieved through the Long Slow Distance, or LSD, run. The Iowa Hawkeye Chapter of the U.S. Army Warrant Officer Association recommends completing a five-mile LSD once a week at a pace slower than your shorter runs. Alternating rapid walking and running is OK at first, but your goal is to jog the entire course.
Step 3
Improve your speed through interval training. According former Navy SEAL Stew Smith, interval training can help you reduce your APFT run by two minutes in less than two months. The Army Field Manual 21-20 recommends one session of interval training per week. You should repeat cycles of work and rest intervals. You can jog or walk your rest intervals, but your work periods should involve one to two minutes of the fastest pace you can maintain. You can also measure your work and rest intervals by distance.
Step 4
Run on varying terrain. The Army APFT and other military training exercises do not always occur on flat pavement. Mixing in hill workouts and trail running for both your LSD and interval sessions will better prepare you for any environment. Steep and off-road terrain will also promote better muscular development, which will improve your Army APFT run score on level ground as well.
Step 5
Include active recovery days. To prevent overuse injuries while maintaining cardiovascular conditioning, include active recovery exercises in your training. Stew Smith recommends biking and swimming because they provide your body with a break from the impact of running. Beginners will require more active recovery days per week than advanced athletes.
Step 6
Give your body adequate rest. While you may be tempted to push yourself to see faster results, rest is required to allow your body to strengthen and heal. One day free of all exercise each week of training is beneficial to all athletes.
Things You'll Need
Proper running shoes

Pre-measured course

Timing device
Tip
Allow yourself six to eight weeks before your Army PT test to improve your running time. Wear proper running shoes designed for your specific foot type, stride and length.
Warning
Consult your doctor before beginning any new training regimen.