A type of mush made from stone-ground corn or maize, grits are a Southern food staple, often eaten as a breakfast or dinner side dish. As a corn-based food, grits contain carbohydrates, the nutrient in food that digests into sugar and is then released into the bloodstream. While grits do have an effect on blood sugar, when eaten as part of a balanced diet, they should not cause high blood sugars. Consult your doctor before making changes to your diet.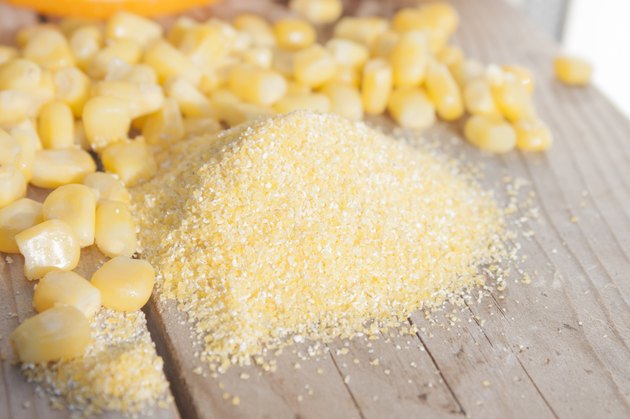 High Blood Sugar
Preventing high blood sugar is important whether you have diabetes or not. Certain types of foods, such as candy or french fries, cause blood sugar levels to increase quickly. A rapid increase in blood sugar for people without diabetes often leads to a rapid decline, which can zap energy and leave you feeling hungry. People with diabetes Making healthy food choices, which may include grits, to maintain blood sugar levels aids in hunger and weight control and may also lower your risk of developing diabetes.
Carbohydrates and Blood Sugar
Protein and fat have only a minimal effect on blood sugar levels, while carbohydrate foods -- including breads, cereal, fruit, milk and starchy vegetables such as corn -- have a bigger effect. Controlling the amount of carbs you eat at each meal can help you manage your blood sugars. A 1/2-cup serving of cooked yellow corn grits contains 14 grams of carbohydrates, while the same serving of cooked white corn grits contains 19 grams. Your doctor or dietitian can help you determine the amount of carbs you should eat at each meal for blood sugar control if you have diabetes. In general, it's usually about 45 to 60 grams of carbs at each meal, according to the American Diabetes Association.
Grits and the Glycemic Index
Not all carbs affect blood sugar in the same manner. The glycemic index, or GI, ranks carbs on a 100-point scale based on how quickly they raise blood sugar. Foods with a high GI of greater than 70 raise blood sugars quickly, while foods with a low GI, or less than 55, raise blood sugars gradually. While there are many factors that affect a food's GI, including processing and added ingredients, grits has a GI of 40, making it a low GI food.
Grits in Your Diet
As long as you don't exceed the 1/2-cup serving size, grits should not raise your blood sugar. Use measuring cups and a small bowl to help keep portions under control. For calorie control, use nonfat milk to make your morning grits, and omit the butter. If you like shrimp with your grits, use whole milk, or even better low-fat or nonfat, instead of cream and cut back on the bacon and butter for a dinner meal with less fat and fewer calories.