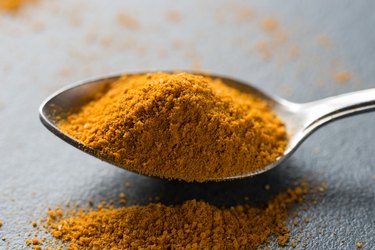 Curry powder is an essential ingredient in curry dishes and is typically made from a blend of spices including turmeric, cumin, coriander, fenugreek and chili. Curry powder nutrition can be determined by analyzing these ingredients, some of which — in particular turmeric — have health benefits.
You'll find curries ubiquitous to East Indian cuisine. Curry also shows up in other countries like France, Thailand, Japan, Jamaica and Morocco (each with their own unique take). But there is more to curry than commercial curry powder, as mixtures can vary in the spices used. Additionally, you may also find mustard seeds, cinnamon, cardamom, cloves, nutmeg, peppercorns and bay leaves in a curry blend. Curry powders can range from mild to hot.
Curry Powder Side Effects
While the positive aspects of curry powder and its components are more known, there are some curry powder side effects that would mostly originate from the turmeric powder. The National Institutes of Health notes that turmeric is generally considered safe, but potentially could create problems when taken in large doses.
For example, a review published by Foods Journal in October 2017 showed that some subjects who ingested very high quantities of turmeric experienced diarrhea, headache and rash. Some others who took high doses of curcumin over several months reported nausea and diarrhea.
You are taking warfarin or other blood thinners. Turmeric may increase your risk of bleeding.
You are taking chemotherapy drugs. Turmeric inhibits the action of these drugs against breast cancer cells in lab experiments.
You are taking tacrolimus, an immunosuppressant. Curcumin supplements increase plasma levels of tacrolimus and may increase side effects.
You have gastrointestinal problems or are at a higher risk of kidney stones. Patients should consult their physicians before taking a lot of tumeric.
Curry Powder Health Benefits
The American Heart Association (AHA) focuses on a benefit of curry powder nutrition as being a means to add flavor to meals without adding too much salt — meaning it is flavorful enough that you can lower or eliminate salt in a dish altogether. The AHA recommends that a "moderate level of sodium" in the food supply can greatly reduce risk for heart disease and stroke, two leading causes of death in the world.
Further, curry powder's individual ingredients have specific health benefits. Turmeric powder in traditional medicine has been well established, with various medicinal uses including as a poultice for sore muscles, in a drink given to women after childbirth and as a paste to help with wound healing.
Foods also detailed the antioxidant and anti-inflammatory effects of curcumin, an active ingredient found in turmeric powder that is being studied for its anti-inflammatory and antioxidant properties and effects on treating a wide variety of diseases. When combined with piperine, the active ingredient in black pepper, curcumin's bioavailability increases by 2,000 percent. Black pepper is found in some curry powder blends.
Fenugreek also has purported health benefits, including being used as a dietary supplement for diabetes, to stimulate milk production during breastfeeding and topically as a dressing for wounds or eczema, although these claims have not yet been medically proven. Coriander contains beneficial properties, including some vitamin B1 (thiamine), vitamin B2 (riboflavin), vitamin B3 (niacin), vitamin B5, vitamin B6, vitamin B9 (folate/folic acid), vitamin E, vitamin K, calcium, copper, iron, magnesium, manganese, phosphorus and potassium zinc, as well as dietary fiber.
Curry powder also contains chili powder. This ingredient is derived from chilis, which include a good range of vitamins, minerals, phytochemicals and dietary fiber. Chilis may also play a role in decreasing human micronutrient deficiencies, according to an article published October 2018 in Food Science and Nutrition.