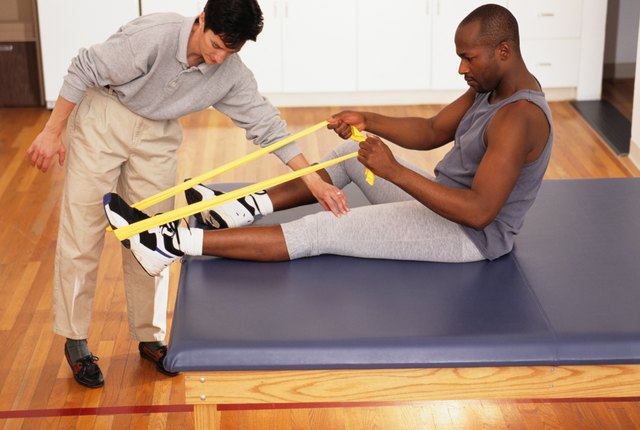 You felt like you watched in slow motion as it happened. While running to catch the bus, you fell awkwardly, twisting your leg in the process. Now you're sporting a cast. Such a fall could result in a broken tibia, which is the bone running from your knee to your ankle, or a broken fibula, which is at the bottom of the tibia just above the ankle. Once that cast is removed, you'll have to strengthen your leg with rehab exercises.
When Rehab Can Begin
Right after a tibia or fibula injury, the doctor will want you to take it easy long enough for your bone to start mending, which can take up to six to eight weeks. If the break required surgery, it could even be as long as 12 weeks before your doctor starts you on a rehabilitation program. According to Rebecca Peterson, who is a physical therapy assistant in Pocatello, Idaho and has a degree in Exercise Science, it's likely that you'll start with assisted movement about twice a week during the pre-rehab downtime to cut down on stiffness.
Flexibility First
Once you do visit a physical therapist and start exercising your leg, you won't start out using weights or other resistance. Improving flexibility and mobility without causing further injury is the first order of business. Your physical therapist will assist you with manual exercises, moving your ankle back and forth with her hands, bending and straightening your knee, flexing your calf and stretching your achilles tendon in the process. The therapist may also have you work with a wobble board while seated on a chair, having you move it back and forth and side to side with your feet in slow, controlled movements.
Exercises for Rehab
After your flexibility and mobility begins to improve, your doctor will recommend that you progress to strengthening exercises for your leg. Your physical therapist will start you out with little or no resistance, depending on your leg strength and what you can tolerate. She might even use resistance bands instead of weight. Useful exercises that your therapist might have you do after a tibia fracture would include one legged wall squats, leg lifts and leg curls, all using your injured leg. Exercises after a fibula fracture include clockwise and counterclockwise circular motions with your injured ankle, in addition to flexing it up and down and moving it side to side. Usually you'll start out slow, just 10 repetitions of each exercise at first.
Hydrotherapy Help
Exercising in the pool is helpful for rehabbing your leg after a tibia or fibula injury, because the water reduces the stress of gravity on your leg while at the same time providing resistance that will help build strength. Your physical therapist may or may not have a pool, so she might recommend some exercises for you to do at a public pool. These would include jumping jacks in shoulder-deep water, holding onto the side of the pool and kicking your legs, using a kickboard to propel yourself across the pool and jogging in water that is chest or shoulder deep while using a weighted belt to help keep you erect.