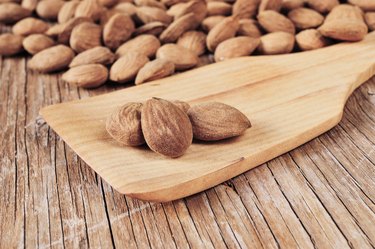 When you're trying to eat a healthy diet, bananas and almonds are two of the best food choices because both are filling and packed with nutrients. The sweet softness of a ripe banana and the nutty crunch of almonds complement one another well, so snacking on these two foods together can fill you up and satisfy your sweet tooth.
Bananas
Bananas contain a number of beneficial nutrients. They're one of the best sources of potassium you'll find, which is ideal if you're fighting high blood pressure since potassium is linked to healthy blood pressure. According to "Eating Well" magazine, this fruit is also high in fiber as well as high in vitamins C and B-6. Bananas are high in carbohydrates, so eating a banana can give you a boost of energy.
Almonds
Nuts sometimes get a negative reputation because they're high in fat, but almonds are one of the healthiest nuts you can find. According to Real Simple magazine, almonds have more fiber and protein than any other type of nut. Almonds are also high in vitamin E; according to Eating Well, one ounce of almonds contains 37 percent of your daily vitamin E requirements. These little nuts also contain folate, calcium and flavonoids, which reduce inflammation.
Breakfast
The sweetness of bananas and almonds makes them a natural choice for breakfast, and eating these foods first thing in the morning can give you the energy you need to face the day. Fold mashed bananas into whole wheat pancake batter and top the finished dish with toasted sliced almonds, or mix chopped bananas and almonds into a bowl of rice cereal. Banana almond bread is quick to whip up and filling enough to keep you full all morning. Look for a recipe that includes applesauce, since this will make the bread moist and cuts down on the required oil.
Snacks
Since almonds and bananas don't require refrigeration, you can stow them in your desk or backpack for an anytime snack. A whole banana and a handful of nuts makes an adequate snack. To add some dairy to your snack, mix half a banana and some untoasted almond halves to a container of plain vanilla yogurt, or blend a banana and a scoop of almond butter together with ice and berries for a simple smoothie. For a sweet evening snack, roll a banana in some melted dark chocolate and sprinkle on chopped almonds. Freeze the treat for an hour and enjoy.