Your legs are powerful body parts that support movements of all kinds, including exercise like running and riding your bike. When you exert yourself more than normal, your legs may feel rubbery once you have finished your workout. Rubbery legs are common and usually do not signal a problem. Rest, nutrition and proper hydration can often eliminate the rubbery feeling and restore normal movement.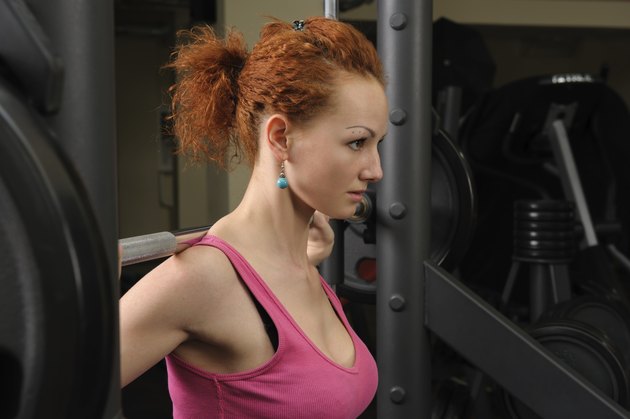 Intensity
When you work out harder or longer than you are used to, your muscles must adjust to the increase in intensity. Exercising causes slight damage to your muscles, which encourages them to increase in both size and strength as they heal, John Ivy notes in his book, "The Performance Zone." If you injure your muscles more extensively than normal activity causes, your legs may feel rubbery when you first end your exercise session. Rubbery legs are more likely to occur when you increase the intensity or duration of your workout. It also can happen if you do activities that primarily require the use of your legs, such as running or riding your bike.
Nutrition
An intense workout session may cause rubbery legs if you do not replenish the nutrients you lose during physical activity. When you exercise, your body loses nutrients such as potassium and sodium. These deficiencies may lead to a rubbery feeling in your legs because your body relies on certain nutrients for energy and strength. Dehydration may also lead to rubbery legs because your muscles need sufficient amounts of fluids to work properly. If you do not replenish your fluids while exercising, the muscles in your legs may feel weak and shaky when you end your workout session.
Recommendations
If you experience rubbery legs, rest to help the muscles recover. One of the best ways to avoid rubbery legs following your exercise session is to drink plenty of water. When you put plenty of fluids in your body, your leg muscles have the nutrients and liquids they need to function properly. Water also replaces the fluids lost when you sweat. Increase the intensity of your exercise regimen only gradually. If you wish to increase the length of your workout or add a new exercise to your workout plan, take it slowly. Add one or two repetitions at a time or increase your time by five minutes to start. Slowly add more repetitions and time. This will help to prevent rubbery legs by conditioning your body to be more active.
Considerations
Always talk with your doctor before starting a new workout program or increasing the intensity of your current workout program. If you continue to have rubbery legs following your exercise session, speak with your doctor about alternate causes for your symptoms. If you do not eat a balanced meal before working out, you may have hypoglycemia, which is characterized by weak muscles, dizziness and fatigue. A severe injury can also cause rubbery legs and you may have to limit your physical activity until it heals.