You may attribute a sensation of weakness to many potential causes. Should the symptom continue beyond a few days or become extremely acute, contact your doctor or an emergency medical provider immediately. In many cases, however, a weak sensation in the leg muscles proves to be a relatively minor issue, triggered by overexertion or fatigue.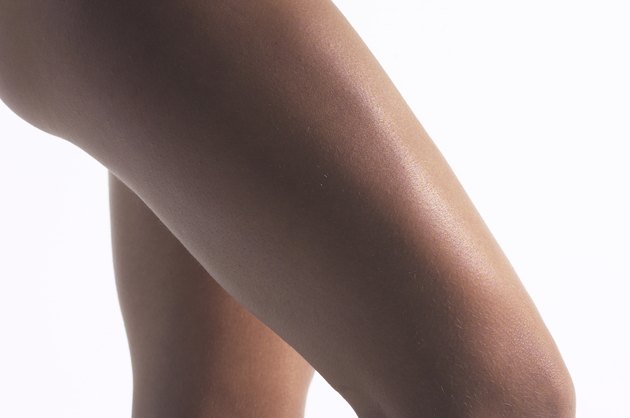 Overexertion
Before imagining more serious diseases, review your recent physical activity. If you have used your leg muscles to perform any unusual or vigorous activities, the sensation of weakness may be due to overexertion. Lack of conditioning leaves you more prone to muscle strain or fatigue. Even if you haven't veered from your usual exercise routine, if you have recently returned from a break in your workouts, your body may simply need to readjust. To avoid future muscle fatigue, do a five- to 10-minute warm-up before practicing sports or exercise and a cool-down afterward. During the warm-up and cool-down periods, use the same muscle groups required for your activity, but at less than half the intensity.
Repetitive Strain Injury
If you haven't made a particular change to your exercise routine, but you do work out or play sports regularly, the activity may still be causing your leg's weakness. Regular overuse of a particular part of the body can induce a repetitive strain injury, which typically involves weakness, numbness and potentially pain centered around the body parts used in repetitive motions. While the wrists, neck and shoulders are most commonly locations for repetitive strain injuries, the condition may arise anywhere on the body, depending on your most habitual activities. Solutions typically involve physical therapy, massage and changes to posture or lifestyle.
Jumper's Knee
Jumper's knee, or knee tendinitis, is a condition of weakness or inflexibility that affects the quadriceps tendon just above the knee cap. As the name suggests, it's most common to develop the condition if you regularly perform activities that require you to jump. The impact of landing after a jump forces your quadriceps tendon to contract forcefully, so overuse can easily induce strain or tearing. Either case typically causes you to feel weakness, pain and inflexibility just above the knee cap.
More Serious Conditions
While minor injuries and strains are more common by far, serious diseases and disorders can also cause muscular weakness. Sciatica, caused by pressure or damage to the sciatic nerve, can cause numbness, weakness or pain anywhere from the lower back through the thigh and leg, even to the foot. Sciatica is not a disease, in itself, but the symptom of such issues as a slipped disk, a pelvic injury or a tumor. Spinal stenosis is another disease that affects the spine as well as the leg. Common symptoms include a sense of cramping or tightness in the thigh during walking and a numbness or weakness in the legs. The disease is caused by the vertebrae or the spinal disks pinching the spinal cord or connecting nerves. Physical therapy exercises are widely used for both sciatica and spinal stenosis.