Degenerative disc disease, or DDD, occurs as part of the normal aging process. DDD, which is one of the more common causes for back pain, causes the discs in the spinal column to lose some of their cushioning. L3 and L4 are two of the discs in the lumbar area of the lower back. Certain exercises can help limit the pain caused by DDD in the lumbar area.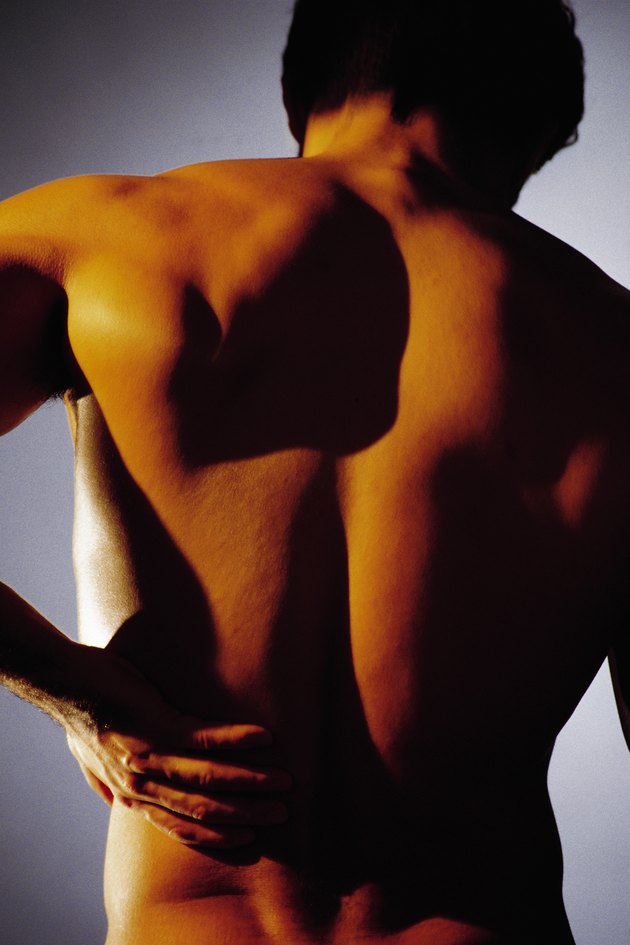 Stability
Exercises that increase the stability of the lower back can help relieve lower back pain. Lie on your back and bend your knees, then alternate lifting and lowering your feet slightly. Once you have mastered this move, try raising alternate arms over your head at the same time. Another exercise involves lying on your stomach and alternating lifting your legs off the floor slightly without bending your spine, then increasing the difficulty by raising alternate arms at the same time. You can also perform this type of exercise on your hands and knees or while lying on an exercise ball as you get stronger.
Stretching
Stretching exercises can increase your range of motion, but can also increase your risk for injury in some cases, according to the American Council on Exercise. Stretching exercises are best for those who have already increased their stability. Some examples include the single knee to chest stretch, the lying hamstring stretch, and, for more advanced exercisers, the hip flexor stretch and the piriformis stretch, which involves crossing one knee over the other and then pulling your knees in toward your chest.
Strengthening
If you already have back problems, be careful when doing strengthening exercises, as some of these can aggravate back problems. Beginning exercises for people suffering from lower back pain include heel slides, wall sits, heel raises, straight leg raises and ankle pumps. Other exercises to try include the cat to camel pose, the birddog, curl-ups with one knee bent and the side bridge. These exercises help to spare your spine from having too much pressure put on it while strengthening the muscles in your back and your core muscles.
Considerations
Always speak with your doctor or physical therapist before beginning any exercise program. If you have DDD, perform the exercises recommended by your doctor or physical therapist and speak to your physical therapist before adding any new exercises. Some exercises may be too difficult, so you may need to work up to them.