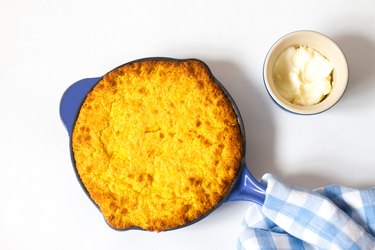 A moist honey cornbread recipe is easy to bake from scratch, but if you're pressed for time, a purchased mix can taste almost like homemade. If you incorporate a few additions like sour cream, extra honey or corn kernels, even the most basic box can become something a little more special.
Tip
How to Make Cornbread Sweet and Moist
To the recipe on the Jiffy cornbread box, you can add 2 tablespoons of honey, 1/2 cup of whole milk, 1/2 cup of sour cream and 1/4 cup of vegetable oil before baking. You can also stir in 1/2 cup of creamed corn for extra moisture.
Bake Moist Jiffy Cornbread
Most grocery stores feature boxes of blue Jiffy brand cornbread mix, as well as other brands. Made with flour and cornmeal, they have a more cake-like consistency that is comfortingly familiar, especially served warm and topped with butter and honey.
If you want to elevate your boxed mix to something above the ordinary there are a few simple substitutions and additions that will take it the next level, mostly involving the sugar and fat component in the mix. A moist cornbread recipe without buttermilk is definitely achievable for any cook.
Penn State Extension notes that a delicious swap is to use honey in place of granulated sugar. Sugar is hygroscopic, which means that it attracts water, according to the University of Minnesota. When used in baking, sugar's attraction to water interferes with structure builders (gluten, for example), thus creating a more tender and moist final result.
Sweeteners such as honey, fructose and invert sugar prevent crust formation because they retain moisture — which also results in a more moist final product. Brown sugar or corn syrup for the granulated sugar would also work.
As the Mayo Clinic reports, there is no nutritional advantage to honey, brown sugar or other types of sugar over white sugar, but in terms of this cornbread recipe the sugar substitutions are used for taste rather than an added health benefit.
An easy variation on the boxed recipe is to up the milk to 1/2 cup and stir in an additional 1/2 cup of sour cream. One-fourth cup of vegetable oil will add even more moisture to your moist honey cornbread recipe. Butter is also acceptable and will add a richness of flavor, although it will not give quite the same moist crumb. If you prefer, try 1/2 cup of full-fat Greek or plain yogurt in place of the sour cream.
You could also stir in 1/2 cup of creamed corn, or if you want to go a bit healthier, try 1/2 cup of corn kernels to give your cornbread extra texture. The additional moisture in the creamed corn combined with the sour cream and honey will result in an extremely moist Jiffy cornbread.
Moist Honey Cornbread Recipe
A simple recipe for enhancing your boxed cornbread mix calls for the addition of sour cream, vegetable oil or butter, and honey. Follow this recipe to elevate your boxed mix beyond the ordinary.
1 box Jiffy cornbread mix
1/2 cup whole milk
1/2 cup sour cream
1/4 cup vegetable oil or unsalted butter, melted
2 tablespoons honey
1 egg
Optional: 1/2 cup creamed corn or 1/2 cup corn kernels, from fresh or frozen corn
Preheat the oven to 375 F and lightly grease an 8-by-8-inch pan with nonstick baking spray.
In a large bowl, whisk together sour cream and egg until egg is fully beaten. Whisk in the milk sour cream, oil and honey until just combined. Add the corn if using.
Pour batter into the prepared pan and place in the oven. Bake for about 20 to 25 minutes, until a tester inserted in the middle comes out dry or with just a few crumbs clinging to it. Remove from oven and cool in pan for 10 minutes; then cut into squares and serve.