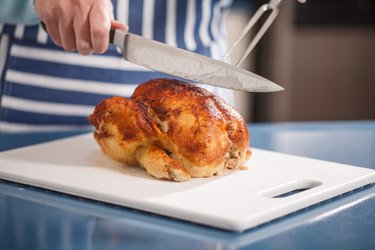 Rotisserie chicken can be added to just about any dish that calls for cooked chicken. That versatility is likely what lead to more than 625 million rotisserie chickens being sold in the U.S. in 2017, according to market-research firm Nielsen and Costco Wholesale Corp. And they continue to be a mainstay of many household dinners.
Most of these chickens are flavored with a rub that contains spices and sugars, such as barbecue or lemon-pepper and are often injected with a salt water solution to keep them moist.
Rotisserie chickens are inexpensive and versatile, but they dry out quickly if you reheat them the wrong way. If you have the time, reheat the chicken in the oven. In a pinch, you can microwave rotisserie chicken or heat it on the stovetop with other ingredients.
Reheat Rotisserie Chicken in the Oven
Things You'll Need
Rotisserie chicken

Baking sheet

Aluminum foil

Meat thermometer

Serving platter

Cutting board

Knife
Step 1: Preheat and Prep
Preheat the oven to 350 degrees Fahrenheit. Remove the whole rotisserie chicken from its packaging and place it on a baking sheet.
Step 2: Reheat Chicken for 25 Minutes
Cover the chicken with aluminum foil and place it in the oven. Bake for 25 minutes or until a meat thermometer inserted in the chicken registers 165 degrees Fahrenheit. The foil helps retain moisture, but if you want a crispy skin, leave the foil off, which will also accentuate the flavor of the rub.
Step 3: Let Rest Before Serving
Transfer the chicken to a serving platter and let it cool for five minutes before cutting it.
Reheat Rotisserie Chicken in the Microwave
Things You'll Need
Rotisserie chicken

Microwave-safe dish

Wet paper towel

Meat thermometer

Serving dish

Chef's knife
Step 1: Separate Meat and Bones
Remove all of the meat from the bones and discard the bones and carcass. Place the meat in a microwave-safe dish and cover with a wet paper towel.
Step 2: Reheat Chicken One Minute at a Time
Heat the chicken in one-minute increments, turning the chicken after each minute to ensure even reheating. Dark meat contains more fat than white meat, so it may heat up faster. Continue to heat in one-minute intervals until all of the chicken is heated through to an internal temperature of 165 degrees Fahrenheit.
Step 3: Let Rest Before Serving
Let cool before serving or add to your favorite dish (see below for more healthy meal ideas).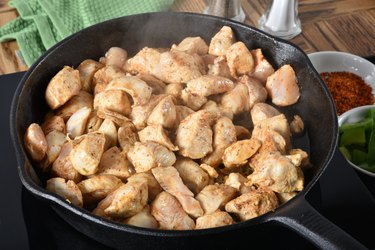 Reheat Rotisserie Chicken in a Saute Pan
Things You'll Need
Rotisserie chicken

Saute pan

1/2 cup chicken stock

Meat thermometer

Knife
Step 1: Remove Meat and Shred
Remove chicken from the bones and discard bones and carcass. Slice or shred chicken to desired size.
Step 2: Heat in Saute Pan
In a saute pan over medium heat, add one half cup of chicken stock. Add the chicken to the saute pan, cover and heat until the chicken is heated to the proper temperature (165 degrees Fahrenheit).
Step 3: Make It a Meal
Enjoy the chicken alone or add to your favorite dish!
Tips for Reheating Rotisserie Chicken
To speed up reheating time, remove chicken meat from the bones before storing and reheating.
When reheating a whole chicken, use the oven. For all other cooking methods, remove the meat from the bones first.
When storing chicken, it can be stored in the fridge for up to three days.
When freezing rotisserie chicken, make sure you remove all of the chicken from the bones before placing in freezer safe bags. Thaw frozen chicken in the refrigerator — not on the countertop — and then reheat.
Any method of heat can be used to reheat rotisserie chicken. Baking, sautéing, and microwaving are all good methods for reheating.
Be mindful of adding extra salt to dishes containing rotisserie chicken. They're already high in sodium, so a good rule of thumb would be to taste test as you cook.
Remove the skin right away if possible. The skin is easier to remove when the chicken is warm. There is no nutritional benefit to keeping the skin on the chicken, and it can, in fact, add lots of extra fat and calories.
Food safety is still important when reheating. All leftover chicken should be reheated to an internal temperature of 165 degrees Fahrenheit.
Rotisserie chickens can be used in many foods that don't require reheating for even faster meals. Shred or dice the chicken and use it in pasta and green salads. Add Greek yogurt, cashews and grapes for an easy chicken salad.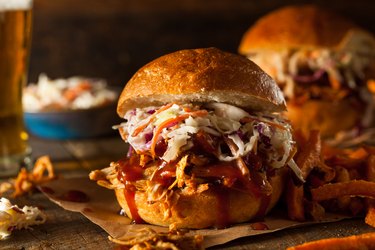 How to Use Rotisserie Chicken Leftovers
Rotisserie chicken can be a timesaver when looking to get dinner on the table quickly. Many meals come together in 30 minutes or less when a rotisserie chicken is the main ingredient. Use rotisserie chicken in these recipe ideas below and increase the number of meals eaten at home each week.
1. Chicken Pesto Pasta With Peas
Cook eight ounces of whole wheat rotini pasta according to package directions. Drain. Remove all of the chicken from one rotisserie chicken and cut into bite-sized pieces. In a large bowl, add pasta, chicken, one 6-ounce jar of store-bought pesto, one cup of thawed peas and one half cup of shredded parmesan. Mix together, serve and enjoy!
Shred two cups of rotisserie chicken meat and add to a sauté pan on medium heat with one quarter cup of chicken stock. While chicken is heating, prepare taco shells, tomatoes, shredded lettuce, cheese, guacamole and salsa for your favorite taco dinner.
3. BBQ Chicken Sandwiches
Shred two cups of rotisserie chicken and place in a small- to medium-size saucepan over medium heat. Add one cup of your favorite barbecue sauce, or more if you like it saucier. Simmer until the chicken is heated through and serve on hearty whole grain rolls. Make four servings.
Add one cup diced carrots, one cup diced celery and one half cup diced onions to a medium dutch oven or stock pot with two tablespoons extra virgin olive oil. Turn heat to medium and sauté for five minutes. Add two cups of shredded rotisserie chicken, five cups of chicken stock and one cup of broken, dried spaghetti pieces. Bring to a simmer and heat until the pasta is tender. Serve warm.
5. Chicken Margherita Pizza
Using a store bought or homemade pizza crust, preheat your oven according to recipe or package directions. Spread out pizza dough and top with a good tomato sauce, one cup of shredded rotisserie chicken and slices of fresh mozzarella. Bake according to package or recipe directions. Allow pizza to cool slightly and top with shredded fresh basil.
Place three cups of diced or shredded rotisserie chicken into a mixing bowl. Mix together:
1/2cup of diced celery,
1/4 cup of diced sweet onion
1/4 cup of olive oil mayonnaise
1/4 cup of plain Greek yogurt
1 teaspoon dijon mustard
1/4 teaspoon black pepper

Taste and add one quarter to one half teaspoon of kosher salt, if needed. Serve in lettuce cups or on whole grain toast.