Many people struggle, sometimes for years, to lose stored fat and lower body weight. One of the biggest problems with low-calorie and even low-fat diets is that they can cause the dieter to lose weight indiscriminately, reducing fat, muscle and water weight. A ketogenic diet, a type of very low-carb eating plan, attempts to fight this problem by causing the body to lose fat while maintaining or building muscle mass. A carb cycling diet attempts to reduce some of the side effects of a ketogenic diet through limited carbohydrate intake.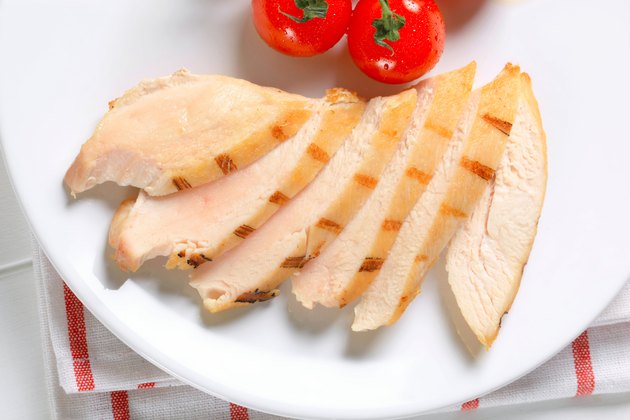 Ketosis
Nearly all the carbohydrates must be removed from the human body to put it into ketosis. When there are no carbohydrates left in the diet, the body relies on stored carbohydrates for energy. Once all of the stored carbohydrates are used up, the body switches to using fat stores for energy.
Ketosis Risks
Entering ketosis can be a difficult process for the dieter. The first couple of days on a ketogenic diet, or a diet designed to induce ketosis, often result in lethargy and muscle fatigue. It is only after you've reached ketosis that your body achieves a sort of equilibrium and the fatigue fades. However, staying in this ketosis phase is very difficult. If you eat carbohydrates, your body leaves ketosis and the initial phase must start over again.
Carb Cycling
A carb cycling diet is designed to help to reduce some of the negative effects of a ketogenic diet by allowing the body to replenish its carbohydrate stores on a periodic basis. During the carb depletion phase of the diet, the dieter reduces carb intake to almost nothing, and focuses on workouts that deplete the carbohydrate stores more quickly. Then the dieter eats a specified set of carbs to refill the body's carbohydrate stores; this is called a re-feed or carbo load. This gives the dieter the energy necessary to perform workouts the following week.
Considerations
When selecting a ketogenic or carb cycling diet, your daily schedule must be a consideration. Any diet plan of this type requires very strict adherence. If you do not go into ketosis because you eat too many carbs, either at all or during the carb restriction phase of a cyclical diet, you may not experience the weight loss benefits you expected. Most people cannot remain in ketosis, either due to slipping up or simply because the amount of carbs needed to throw the dieter out of ketosis is so low. Before beginning a challenging diet like a ketogenic or carb cycling diet, consult your doctor to determine whether it will be safe for you.