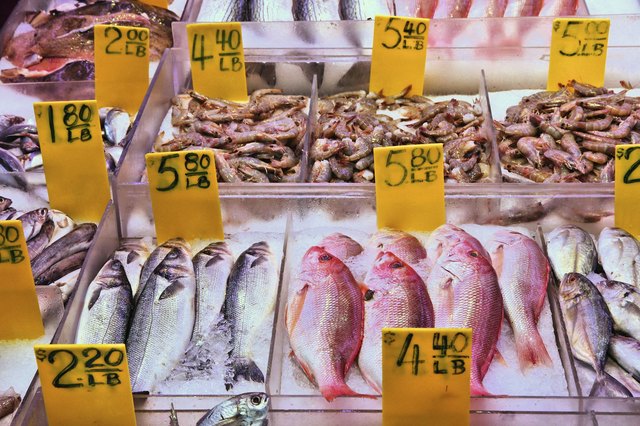 Painful headaches that develop soon after you eat seafood might be more than just a coincidence. Eating seafood can be a trigger for headaches, particularly if the food contains toxins or unhealthy chemicals. Understanding which types of fish are at highest risk of contamination can help you avoid fish-related headaches in the future.
Ciguatera Poisoning
Ciguatera poisoning can occur if you eat fish contaminated by dinoflagellates, single-celled organisms found in both salt and fresh water. Barracuda, snapper, grouper, sea bass and other types of tropical reef fish can contain dinoflagellates. In addition to headache, other symptoms of ciguatera poisoning include nausea, vomiting, diarrhea and cramps. People who develop ciguatera poisoning might also notice that hot foods feel cold when they eat them and cold foods feel hot. Symptoms can last one week to one month.
Scombrotoxic Poisoning
A headache can also be a symptom of scombrotoxic fish poisoning, a condition that occurs when the chemical histamine builds up in fish due to bacterial contamination. In both scombrotoxic and ciguatera poisoning, symptoms can begin just minutes after you eat tainted fish or might not begin until hours later. Other symptoms include vomiting, diarrhea, abdominal pain, sweating, flushing and burning or metallic taste in the mouth. The Centers for Disease Control and Prevention reports that symptoms might be more severe in people who take isoniazide, doxycycline or other medications that slow the breakdown of histamine by the liver.
Paralytic Shellfish Poisoning
Paralytic shellfish poisoning occurs when shellfish are infected with the type of dinoflagellates responsible for red tides. Because these dinoflagellates are red-brown, contaminated water appears red. Eating contaminated crabs, lobsters, cockles, scallops, clams or mussels can cause headache, difficulty coordinating muscles, dizziness and nausea, although numbness and tingling in the legs, face and arms is usually the initial symptom. Symptoms usually begin within two hours after consuming shellfish and are mild in most cases. In severe cases, paralysis, respiratory failure and even death can occur.
Amnesic Shellfish Poisoning
A rarer type of shellfish poisoning, amnesic shellfish poisoning, can also cause headaches, along with gastrointestinal symptoms, dizziness and disorientation. Amnesic shellfish poisoning occurs when mussels, clams, oysters or Dungeness crabs are contaminated by domoic acid, a toxin produced by the Nitzschia pungens diatom. Symptoms usually develop 24 hours after eating contaminated shellfish. In severe cases, symptoms can include permanent short-term memory loss, abnormal heart rhythm, motor weakness, confusion, seizures, paralysis, coma and death.
Methylmercury Contamination
Eating fish contaminated with methylmercury can also cause headaches. Mercury found in rocks, soil and industrial runoff changes into the chemical methylmercury in the water. Other symptoms of methylmercury-related illness can include numbness in the fingers and toes, vision difficulties, memory problems and tremors. The National Resources Defense Council reports that exposure to mercury can be hazardous for pregnant women and small children. Exposure to mercury can cause deafness, blindness and mental retardation in the fetus if the mother has a high amount of mercury in her body during pregnancy. While all fish contain some amount of methylmercury, tuna, shark, mackerel and swordfish contain the highest amounts.