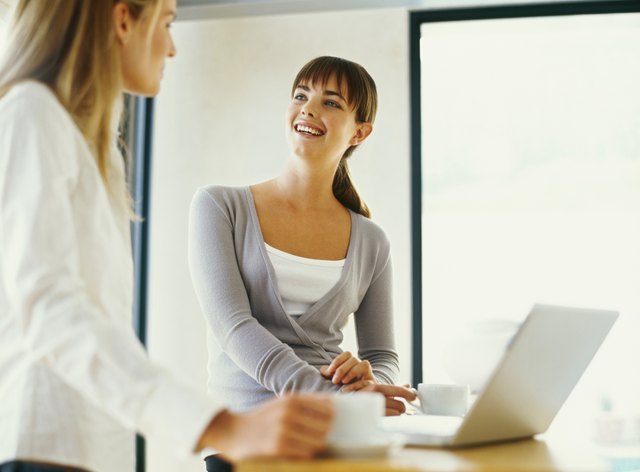 The term "secretary butt" refers to a round, flat and shapeless bottom. The theory behind the term is that sitting all day, as secretaries do, flattens your bottom, giving it an unsightly appearance. Although the term secretary is used, it can be applied to any job that requires you to sit for extended periods of time.
Banish the Butt
An obvious answer to getting rid of "secretary butt" is to do exercises that target your buttocks. One such exercise is a squat. To properly execute a squat, stand with your feet hip-width apart, pull your belly in and contract your abdominal muscles. Bend your knees and lower your body, mimicking the motion you would make if you were going to sit in a chair. Go as low as you can. Ideally, your knees will form a 90-degree angle. Rise back up and repeat. Take care not to let your knees extend past your toes; this can cause injury.
Lunges also help raise and firm the buttocks. To do a lunge, stand with one leg in front of the other. Lower your body by bending your front knee until it forms a 90-degree angle. Use your heels to push your body back up into the starting position. Repeat the exercise with your other leg. Do both of these exercises two to three times per week in one to three sets of approximately 15 repetitions.
Strength Matters
Squats and lunges are considered resistance exercises during which you use your own body weight. The thing to consider though, is an all-over strength training routine that works your upper body and core, in addition to your lower body. You'll also benefit from the increased energy that a strength training workout provides. You can use dumbbells or free weights, kettlebells or equipment at the gym. Perform one set of eight to 12 reps of each exercise using the highest weight you can lift. Increase weight and sets as you grow stronger.
Move More
Although targeted exercises can help build up the muscle in your gluteus and thigh muscles, you will not get the results you want unless you add some cardiovascular exercise into your routine. Cardiovascular exercises help your body burn fat, which allows the underlying muscle to show. Aim to do cardiovascular exercise for at least 30 minutes on most days of the week. Make an effort to move more during your work day, as well. If you normally hop in the elevator to move between floors, take the stairs. Instead of sending a coworker an email update, walk to her desk and deliver the message in person.
New Ways to Work
Manufacturers have responded to the increasing research that sitting all day is bad for you by designing stand-up desks. These desks raise your computer to chest level so that you can stand while still working. If your boss allows it, a stand-up desk can help reduce your daily sitting time. Consider replacing your traditional office chair with a stability ball. When you sit on a stability ball, your abdominal, leg and glute muscles are constantly adjusting to keep you balanced and in place. This is a drastic improvement over the slumped posture that desk chairs often create.
Better Your Odds
For added motivation, consider this: A study done by the American Cancer Society found that women who sit six or more hours per day were 40 percent more likely to die than women who sat less than three hours per day. Men were 20 percent more likely to die. Whether your motivation is improving your health or a getting rid of an unsightly bottom, try to get off your bottom more often.