Hunger is a powerful sensation created by factors beyond just your stomach being empty. Your hunger can be related to emotional factors, habits and the physical need to eat, which is why dieting or restricting your calorie intake requires willpower to succeed. If you've started a new diet and are wondering when hunger sensations will go away, the answer depends on the new diet you are adopting. For example, if you are not eating enough to support your body's functions, you may never stop feeling hungry. That's why it's always important to talk to your physician before beginning a new diet.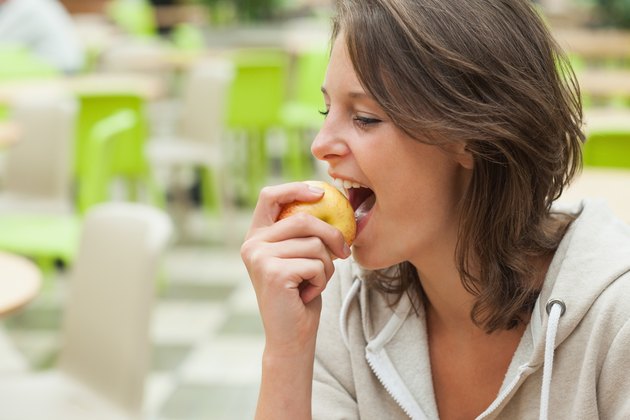 Hunger Significance
Hunger is one of the ways your body signals you that it's time to eat. When your blood sugar levels drop or your stomach is empty, receptors in your body send signals to your brain that you need to eat. The result can be the symptoms of hunger, including stomach rumblings and an intense desire to eat. Sometimes the body does not always interpret hunger signals correctly, however. For example, your body may signal the need for more fluid, but to your brain this signal feels like a hunger pang. Your body also becomes accustomed to a certain rhythm of eating. If your new diet involves skipping your typical afternoon snack, your natural rhythms may signal hunger, even if you aren't really hungry.
Telling the Difference
Before you can know how long it takes to reduce hunger on a diet, it's important to understand where your hunger sensations are really coming from. When hunger pangs come along, ask yourself if you are truly hungry or if eating at that time of day is a habit for you. You also can drink plenty of water and fluids to stay hydrated. If you've taken both steps and still feel hungry, this can be a signal to you that you aren't taking in enough food in your daily diet or may need to more evenly space your meals.
Appetite vs. Hunger
If you are eating enough in your diet, you should not expect to feel hungry at all. This is because you are giving your body what it needs to function properly. Hunger is different from your appetite, which refers more to the joy of eating food. When you are eating enough, it should not require any time for hunger to subside on a new diet. This does not mean, however, you will be free from appetite-related cravings that make you want a piece of cake or a serving of fries.
Solution
To keep your hunger at bay, it's important to eat small, regular meals spaced throughout the day. If your diet involves eating once every six hours, this may not be enough to make your hunger subside. Some techniques you can use include eating every two to three hours and eating the largest amount of calories in the morning, which can sustain you throughout the whole day. Eating healthy, filling foods such as fiber-containing fruits, vegetables and whole grains can make you feel fuller, longer, which cuts down on your hunger levels. If you follow these recommendations, you should not experience significant hunger pangs, even while dieting.