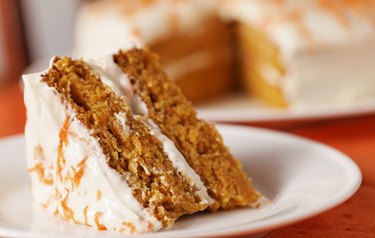 Carrot cake is usually dense with a moist consistency. For some, biting into a crunchy carrot in their slice of cake can ruin the delicious experience and make the cake less appealing.
To avoid crunchy carrots in carrot cake, you have to soften them before adding them to the batter — and there are a few ways to do this.
How to Shred Carrots for Carrot Cake
Things You'll Need
Carrots

Vegetable peeler

Cheese grater ($7, Amazon.com)

Food processor (optional)
Select crisp, bright carrots and rinse them under cool water, while scrubbing to remove dirt.
Use a vegetable peeler to remove the carrot's outer layer, working from the top to the tip of each carrot, and then cut off the tops of the carrots with a sharp knife. Discard the tops and peelings.
Select the finest holes on a cheese grater and shred the carrots carefully.
Use the grated carrots in your carrot cake, as they soften quickly during the baking process.
Tip
Alternatively, you can use a food processor to quickly shred carrots. Just attach a shredding blade to a food processor and pulse the carrots until they're fully grated. This is probably the quickest, best way to grate carrots for carrot cake.
How to Mash or Puree Carrots for Carrot Cake
If you don't like the consistency of grated carrots in carrot cake, you can forgo the shredding process and make carrot cake with pureed carrots.
Things You'll Need
Large pot

Water

Carrots

Vegetable peeler

Large mixing bowl

Fork

Potato masher (optional)

Food processor (optional)
Bring a large pot of water to a boil.
Cut the carrots to 1-inch sections after peeling them and removing their tops.
Place the cut carrots in the boiling water and allow them to cook for 10 to 20 minutes, or until a fork easily pierces them.
Drain the water and transfer the carrots to a large mixing bowl.
Use a potato masher, or the back of a fork, to mash the carrots to a smooth consistency. Alternately, transfer the carrots to a food processor and pulse them until they form a smooth puree.
Use the cooked, soft carrots in the cake as directed by the recipe.
Tip
For a quick carrot puree, you can also use carrot baby food in place of the cooked carrots.
A Simple Carrot Cake Recipe
Note that you can make this recipe low-calorie with light oil and a sugar substitute — but note that using a sugar substitute (like stevia or Splenda) can alter the consistency.
Things You'll Need
9-by-13-inch cake pan


Oil or cooking spray

Eggs

Vegetable oil

White sugar

Vanilla

All-purpose flour

Baking powder

Ground cinnamon

Carrots

Pecans

Toothpick


Cooling rack
Preheat the oven to 350 degrees Fahrenheit and coat a 9-by-13-inch cake pan in a thin layer of oil or cooking spray. You can use a light cooking spray to cut calories.
Blend four eggs, 1 1/4 cups of vegetable oil, 1 1/2 cups of white sugar and 2 teaspoons of vanilla in a bowl. Stir in 2 cups of all-purpose flour, 2 teaspoons of baking powder and 2 teaspoons of ground cinnamon.
Add 1 1/2 pounds of carrots along with 1 cup of chopped pecans. So long as the carrots are grated or pureed, they will soften as the cake bakes in the oven.
Pour the batter in the pan and bake the carrot cake for 50 minutes, or until a toothpick poked in the center comes out clean. Do not open the oven halfway through the cooking process — this can cause the center of the cake to sink.
Allow it to rest in the cake pan for 10 minutes, and then turn it out on a rack to cool completely before icing or cutting. If the cake doesn't fall from the pan when you turn it on a cooling rack, try sliding a butter knife around the edges of the pan to loosen it.
Tip
Place the cooled cake in an airtight container and refrigerate it to prevent spoilage. If you use cream-based icing, refrigeration is particularly important.
If your carrot cake broke apart when you removed it from the pan, place it in bowls and top with icing, syrup or frosting for an appealing dessert.