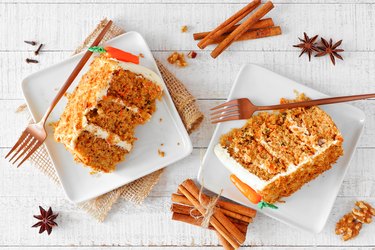 Carrot cake might be a delicious treat, but carrot cake calories can often be a nightmare. However, if you keep the size of the slice in check, it's still possible to enjoy carrot cake for an occasional dessert.
Tip
The number of calories in a slice of carrot cake varies based on brand, the size of the slice and how it's made. However, commercial brands can range between 350 and 500 calories per 100-gram serving.
Carrot Cake Calories
There's no standard size for a slice of carrot cake, but USDA's FoodData Central marks a serving as 100 grams. From there, the number of calories in a serving will depend on whether it's homemade or commercial, as well as how it's prepared. For example, a serving of carrot cake made from the Duncan Hines mix has 400 calories, while 100 grams of carrot cake made by Rich Products has 500 calories. Betty Crocker's carrot cake has 429 calories per serving, while a serving from Junior's has 363 calories.
If you want to indulge in carrot cake and not worry as much about carrot cake nutrition, you can help lower the calories by making it at home. The Cleveland Clinic shares a recipe for a 12-serving carrot cake that has 120 calories per slice — though the recipe doesn't indicate the weight of that slice. To cut back on calories, the recipe uses sugar substitute, non-fat dry milk and egg substitute. It also does not have the frosting of a traditional carrot cake.
Cutting Back on Calories
Whether you're looking to cut back on carrot cake calories or baking another high-calorie item that you want to reduce the calories in, there are a number of ways to modify a recipe to make it diet-friendly. The most obvious strategy is to eliminate or cut back on the cream cheese frosting for which carrot cake is known.
However, Aurora Health Care also recommends trying to cut back on the sugar, which is a source of most of carrot cake carbs, by substituting 1 cup of unsweetened applesauce — which has 100 calories — for 1 cup of sugar, which has 760 calories. If you try this out, reduce the water in the recipe by 1/4 cup for every 1 cup of applesauce that you use.
If you would rather cut back on the butter, substitute 3/4 cup of prunes blended with 1/4 cup of boiling water for every cup of butter. Not only does this combination cut back on fat — and, therefore, the calories — in the recipe, it also adds a healthy dose of fiber to your carrot cake. Aurora Healthcare also notes that a half-cup of avocado and a half-cup of butter is a decent substitute for one full cup of butter. The avocado adds both fiber and heart-healthy monounsaturated fats.
If you use substitutions in your recipe, take note that not every substitution will work perfectly. Try it out for yourself before you bake a carrot cake that you plan to serve to guests to ensure that you're pleased with the final result.