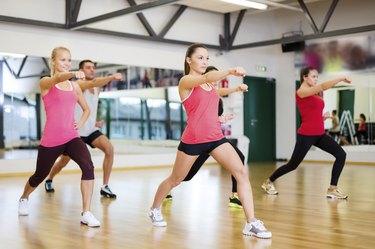 Les Mills and Body Training Systems are two companies that sell prepackaged fitness classes to gyms. This means that the classes are already choreographed to specific songs. For a fee, these two companies provide the choreography, music and promotional materials to member gyms where certified instructors teach the classes to students. Body Pump is Les Mills' group weight class. Group Power is the name of the weight class created by Body Training Systems, or BTS.
The Split
BTS was part of Les Mills until an acrimonious split in 2005. At that point, instructors and clubs had to decide whether to stay with Les Mills or go with the maverick BTS. Instructors were forbidden to teach both programs, even for separate clubs. Les Mills kept its group of classes, including BodyPump, BodyFlow and BodyStep. BTS introduced its own line-up, featuring GroupPower, GroupStep and GroupCentergy.
BodyPump
Every three months, Les Mills introduces a new release of popular songs with choreographed weightlifting routines. BodyPump classes last 60 minutes and focus on a low-weight, high-repetition principle. Participants perform 70 to 100 reps for each body part. For example, if your weightlifting routine usually consists of 12 reps of bicep curls with 12-pound weights, in a BodyPump class you might need to drop that down to 8 or even just 5 pounds to complete that many reps. BodyPump incorporates familiar moves, including squats, presses and curls.
Group Power
Group Power is a one-hour class that uses body weight exercises and an adjustable barbell loaded with weight plates. Students do lunges, presses, curls and squats to increase muscle strength. Like BodyPump, it's a low-weight, high-rep class. After a warm-up, you follow along with eight choreographed weightlifting songs. Then you stretch. The class is designed to be performed two to three days per week, with two days of rest in between.
Class Advantages
The Group Power and BodyPump class formats are similar, as you might expect from two classes with a common ancestor. Both prepackaged classes have advantages for students, instructors and clubs. Fitness clubs gain by having a whole repertoire of classes that are updated every three months. Some instructors enjoy learning choreographed routines rather than devising their own. Students often find group strength-training classes more motivating than individual workout routines, according to AthleticBusiness.com. They feel accountable both to the instructor and to their fellow students. Many enjoy the social aspect of exercising with others.